Getting Off The Nyse Floor
Specialist LaBranche is on the Web and hot for electronic trading. Is this the Big Board's future?
Marcia Vickers
In a live Webcast hosted on its Web site on Jan. 25, LaBranche & Co., the first New York Stock Exchange specialist firm to go public, announced its fourth-quarter earnings. This Webcast and a previous one have plugged LaBranche's staggering profitability.
Moreover, they have sent the message that the firm is serious about using technology to diversify its functions, and maintain its role as a key market player. The primary task of specialists is to provide capital, or liquidity, to the stocks they handle to maintain stable order flow. Orderly markets can increasingly be achieved by matching orders electronically, but most specialists still have their feet planted firmly on the nonvirtual floor.
"Specialists must diversify and evolve to remain viable in this environment," says Steven Wallman, a former Securities & Exchange commissioner. Other big specialists are in a diversification mode, too. Spear, Leeds & Kellogg, for instance, owns an electronic communications network (ECN) and trades over-the-counter stocks through a subsidiary. But experts say that LaBranche's short-order actions capture the industry's urgent need for change and show how it must evolve.
STOCK FEARS. Still, no one is flocking to LaBranche's stock. Although it has rebounded recently, at 14 1/8 it still is trading barely above its offering price of $14 on Aug. 19th. Says Chairman Michael LaBranche: "It's largely because we're the first in our industry to go public, the first to tell our story." But a visit to the Yahoo! Inc. message board for LaBranche's stock reveals other investor concerns. One message reads: "What happens when member firms begin to protest the NYSE's auction system and begin to take order flow away? LaBranche is dead." Another reads: "I think LAB needs to diversify...and fast...or else they're going to remind us of the Fuller brush man." In fact, some say that LaBranche's poor stock showing could mean that the NYSE's proposed stock offering will prove to be a dud.
But LaBranche's stock, which sells at only a 13 price-earnings ratio based on this year's expected earnings, does not reflect the firm's riches. Specialists make commissions when they match buy and sell orders. But their largest source of revenue comes from trading for their own account. The firm's most recent earnings report showed that profits rose to $15.6 million, or 12%, in the last quarter over the previous year. It has greatly benefited from the Big Board's increased trading volume. And LaBranche's profitability is compelling. In 1999, the firm had pretax margins of 50%. Goldman Sachs & Co. and Merrill Lynch & Co., in comparison, had margins of 32% and 19%, respectively. In 1998, the firm's 36 managing directors received an average of $1.7 million in compensation.
These revelations by LaBranche, which is in charge of trading stocks such as AT&T, Merck, and Exxon Mobil, have not made fellow NYSE specialists happy. "You've got this parochial industry that's used to holding its cards close to the vest. LaBranche has upset the gentleman's club," says a source close to the 76-year-old firm.
LaBranche may be kicking more sand in their faces. It is gearing up to trade Nasdaq stocks by yearend and wants to form alliances with ECNs to provide liquidity. "No one wants to send an order somewhere where they won't get it executed. ECNs need to channel orders to a pool of liquidity, and that's us," says LaBranche. Other plans are to increase its after-hours trading presence and develop an e-platform to trade foreign stocks before the U.S. markets open.
MUSEUM? "Kill or be roadkill" is the message to specialists, especially in this mercurial environment where it's likely that the NYSE's auction system will largely be replaced by electronic trading venues, though some form of the system will continue to exist. In order to not become a "bowling alley" or "museum," as some have predicted, the NYSE is taking action. In the last few months, under pressure from the SEC, the NYSE has axed Rules 500 and 390--regulations that make it easier for companies to delist and for member firms to trade certain issues away from a traditional exchange. It has started an electronic system that electronically matches and executes orders in increments of 1,000 shares or less.
The Nasdaq, also facing competition, will start trading NYSE stocks by July through an alliance with Primex Trading, which features an electronic system that is geared specifically to compete with the Big Board's auction system. To combat this onslaught, NYSE specialists have been in a consolidation frenzy. There are now 25 specialist firms, down from 54 in 1986 due to consolidation. "Size means more capital. And more capital allows them to take bigger risks," says Wallman.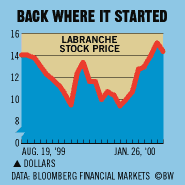 LaBranche has made five acquisitions of smaller specialists in the last three years. Its most recent ones, Henderson Brothers Holdings Inc. and Webco Securities Inc., should be completed by February, making LaBranche the largest NYSE specialist firm in terms of volume. The top three specialists now control more than 50% of the NYSE's volume. And a NYSE rule change now allows specialists to compete for listings. "It's war out there," says Dean Eberling, an analyst at Putnam Lovell, De Guardiola and Thornton.
But if LaBranche can partner with ECNs and continue its technology push, the firm won't strictly be a NYSE specialist anymore, but, as LaBranche himself calls it, a "trading corporation" and "a market maker in different markets." Once investors get this, the stock may go from the floor to the ceiling.
Before it's here, it's on the Bloomberg Terminal.
LEARN MORE