Doug Daft Isn't Sugarcoating Things
He's already shaking up Coke. But can he bring back the fizz?
Dean Foust
When Douglas N. Daft was hastily named by Coca-Cola Co. directors to succeed the embattled M. Douglas Ivester on Dec. 6, the betting among Coke watchers was that the veteran Asia chief would be a caretaker CEO. Given Ivester's unexpected resignation--and the lack of an obvious heir apparent--Daft was viewed by many as somebody who could keep the enterprise on course while the board groomed a longer-term successor.
Now, those bets are off. On Jan. 26--nearly three months before he officially takes over from Ivester--Daft showed insiders and, more importantly, investors that there is indeed a new regime in place. Daft announced the most sweeping shakeup in Coke's 114-year history, including the elimination of 6,000 jobs--about 20% of the company's 29,000-employee payroll. "The mood is pretty lousy, but this shakeup was long overdue," sighs one Coke middle manager whose job was eliminated.
Daft is also decentralizing management. To get closer to local markets, he is reassigning hundreds of headquarters staffers to far-flung outposts. And, rolling back the overambitious expansion plans of his predecessors, he is biting the bullet on poorly performing ventures in the Baltics and Japan--which will cost $813 million in write-downs.
OLD TEAM. More changes are on the way. By the time he is finished, Sanford C. Bernstein & Co. analyst William P. Pecoriello predicts, Daft "will make the most significant changes to Coke's business model and strategy since Roberto Goizueta" took the helm in the early 1980s.
What's the game plan? It looks more like the book of Goizueta than that of Ivester. Goizueta launched his tenure as CEO with a massive shakeup in 1981. Now, Daft is bringing back some of Goizueta's team, including his former executive assistant, and has even initiated discussions with some of Goizueta's outside advisers, such as New York public-relations exec Harold Burson, who helped Goizueta burnish his personal image.
Daft told staffers he's simply following Goizueta's example--that new CEOs should move fast and focus on a "short and critical agenda." And Daft isn't letting Ivester, who is officially CEO and chairman until the April annual meeting, get in the way. When Ivester continued issuing edicts after the Dec. 6 announcement of his plan to step down, Daft's staff sent a curt message to the Ivester camp: Back off--the Doug Daft era has begun.
IDLE PLANTS. Behind Daft's sweeping moves is a tacit acknowledgement that Coke's global buildup during the 1980s and 1990s--when the soda giant spent lavishly as it raced to establish new markets in Russia, Eastern Europe, and China--went too far, too fast. Even in the U.S., where the average consumer already drinks more than 400 servings of Coke products each year, Ivester kept pushing bottlers to spend on new trucks, vending machines, and coolers so the stat could hit 500 servings.
In Russia, two state-of-the-art bottling plants--which together cost more than $100 million--sit idle, used largely as a distribution warehouse; Daft is also writing down a portion of Coke's 1 million vending machines in Japan. And even in the U.S., some of Coke's independent bottlers are ready to pull back from Ivester's push to put vending machines and coolers in unconventional spots like auto-parts stores. "We've made the investments they wanted, and we're still waiting for the payoff," grouses one bottler.
For his part, Daft now acknowledges that Coke's long-held target of pumping out 7% to 8% more volume each year is "probably a little on the high side." By scaling back the top-line target and reducing capital spending, Daft figures Coke can actually produce more profits. Merrill Lynch & Co. analyst Douglas M. Lane now believes Coke will boost its earnings 11% this year but by nearly 30% in 2001.
Meanwhile, the new mantra at Coke is to "think locally and act locally"--rather than await orders from Atlanta. Coke's local managers and bottlers will have more leeway to set pricing, tailor ad campaigns to local cultures, and even introduce new brands. "With the world changing more quickly than ever, we must move decision-making closer to the local markets," says Daft.
Analysts also expect the company to rely more heavily on growth beyond the carbonated-beverage business. In the U.S., which remains Coke's largest and most profitable market, juice, tea, and bottled water are growing from 5% to 28% a year. Meanwhile, growth in the soda market slipped last year from 4% to roughly 2%, estimates Gary A. Hemphill, vice-president at Beverage Marketing Corp. of New York. And some categories, such as diet cola, have actually shrunk.
DEMAND CHALLENGE. Daft knows first-hand that Coke must seek solutions that rely on more than carbonated water and sugar. In Japan, which produces 20% of Coke's profits, Daft generated two-thirds of Coke's revenues from canned coffee and tea. And the new Coke team is already signaling its desire to gin up more profits from other beverages besides soda. Jack L. Stahl, who will serve as president, predicts Coke management will "draw more on the best practices of Japan."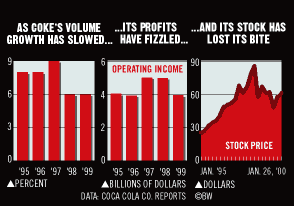 Daft still faces a raft of challenges. He must mollify regulators in Austria, Italy, and elsewhere who are waging antitrust probes that could restrict Coke's sales practices. And despite his write-downs in Russia and Japan, analysts believe Coke is still sitting on at least an additional $100 million in potential write-offs in markets such as India and Venezuela where it overinvested.
Restructuring is fine. But ultimately, Daft will be judged on whether he can create more demand for Coke products--be they soda, water, or whatever consumers desire. Otherwise, like Ivester, he too may find that his term as CEO goes flat.