Chris Craft And Cbs?
Gene G. Marcial
When Chris-Craft Industries (CCN) was featured in this column last June, several big stakeholders, including Mario Gabelli, thought CEO Herbert Siegel would decide to do a deal to unlock the value of the television broadcasting company's assets, mainly its 80% stake in BHC Communications. Since then, Chris-Craft's stock has vaulted from 45 to 76 on Jan. 26.
The latest buzz: Chris-Craft and CBS, which is being acquired by Viacom, are getting close to a deal. Gabelli, whose firm owns some 15% of Chris-Craft shares, figures the stock would be worth at least $3.3 billion in a buyout, or $80 a share. Chris- Craft and CBS started their talks, sources say, after the Federal Communications Commission's ruling in August allowing media companies to own two TV stations in a market, referred to as duopoly. CBS isn't the only suitor. News Corp. and Tribune Co. are also said to be talking with Chris-Craft.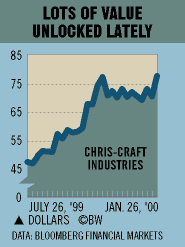 Gabelli won't say whether a deal is imminent but just that CBS CEO Mel Karmazin understands the virtue of owning more than one property in hot markets. Chris-Craft, the eighth-largest TV-station group, which reaches 18% of U.S. households, owns 10 such trophy properties in the top 25 markets, including WWOR-TV in New York, KCOP in Los Angeles, and KBHK in San Francisco. CBS, which has been quite adept at operating multiple radio stations within a market, is likely to buy independent TV stations in major markets, says Gabelli. Would-be CBS parent Viacom owns 19 TV stations and several cable-TV channels, including MTV, Nickelodeon, and VH-1.
Money manager Mark Boyar thinks Chris-Craft's assets can only become more invaluable. The duopoly ruling, he says, has created a sense of urgency for the likes of CBS to acquire assets up to the limit in major markets. CBS declined comment, and Chris-Craft didn't return calls.