Attention Must Be Paid
The African-American Web community is swelling--and underserved
By
Silas Myers is a typical new millennium brother. He's 31, holds an MBA from Harvard University, works as an investment analyst for money manager Hotchkis & Wiley, and pulls in a salary close to six figures. Oh yeah, and he spends about 10 hours a week online, buying everything from a JVC portable radio to Arm & Hammer deodorant. "Maybe I'm nuts," he says, "but shopping online is so much easier to me."
No, homey, you're not crazy. Millions of African Americans are livin' large online. They're younger, more affluent, and better educated than their kin offline. And they're not tiptoeing onto the Net. They're flat rockin' the joint. Five million blacks now cruise through cyberspace, nearly equaling the combined number of Hispanic, Asian, and Native American surfers, according to researcher Cyber Dialogue.
True, Net use among African Americans continues to lag behind the white population: 28% of blacks vs. 37% of whites. But it's time to take a closer look at the digital divide. While those who don't have Net access tend to be poor and undereducated, there's a large group of African Americans who are spending aggressively on the Web. "We're looking at a tidal wave coming of African American-focused content and online consumers," says Omar T. Wasow, executive director of BlackPlanet.com, a black-oriented online community. "You ignore it at your peril."
MAGIC TOUCH. The danger comes in succumbing to the myth that black consumers are a threepenny lot. Blacks earn $441 billion in annual income, according to researcher Target Market News Inc. What's more, nearly 30% intend to place Net orders, compared with 21% of the general population.
Some Web sites are awakening to the sunburst of black consumers online. In early January, Magic Johnson teamed with former Assistant Secretary of Commerce Larry Irving to form UrbanMagic.com, a site for black-oriented news, chat, and e-commerce. It competes with BlackPlanet.com, Netnoir, and Tribune Co.'s BlackVoices.com.
BlackVoices, with nearly 2 million visitors in December, launched its Isoko e-commerce site in November. Isoko (soko is Swahili for marketplace) proved so popular that BlackVoices shut it down on Jan. 18 to add features such as order and shipping confirmations. And BlackPlanet will launch its e-commerce site this spring to satisfy members who want to shop. "We're seeing enormous enthusiasm for e-commerce," says Wasow.
For good reason. African Americans have become smitten with the ability to compare prices and find bargains online. Melvin Crenshaw, manager at Kidpreneurs magazine, recently used the Travelocity Web site to save $300 on a ski trip to Denver. "I really like the value," he says.
It's a shame, then, that so few sites market to such an attractive group. Almost every bookstore on the street has a section on African American or ethnic literature. So it's shocking that e-commerce giants like Amazon.com don't have ethnic book sections.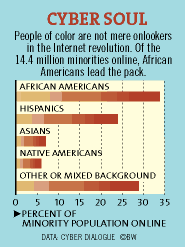 The solution is easy. Web merchants can create what the National Urban League's B. Keith Fulton calls "microbundles"--Web categories within a site's merchandise that resemble the inner-city black bookstore or clothier. "You want blacks to click on a button and feel like they're in virtual Africa or virtual Harlem," says Fulton, the Urban League's director of technology programs and policy. To attract blacks, he recommends decorating that corner of the site in kente cloth patterns.
Word that your site addresses the black market will travel quickly. The viral marketing of the Net is simply what black folks call the grapevine. "In the black community, word of mouth has been a central means of getting news and information," Fulton says. You don't need a huge marketing campaign if your site has a product mix and design that attracts black consumers. So put a little soul into your site.
Before it's here, it's on the Bloomberg Terminal.
LEARN MORE