A True "Explosion" For Veritas
by
As technology research chief in New York for investment firm Invesco, Jay Nakahara (left) scouts for companies that have leading-edge technology but don't yet have marquee names. He thinks fast-growing Veritas Software (VRTS), a leader in enterprise data-storage management, is such a gem: one that he figures is still underpriced, in spite of the strong surge of its stock. Its shares, trading at 32 in August, had zoomed to 157 by Jan. 26. But Nakahara isn't at all concerned by the high valuation placed on the stock.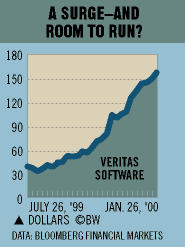 "The explosion in the amount of data that must be stored and retrieved has made data-storage management a critical tool in the Internet economy," says Nakahara, who thinks Veritas, whose products manage both online and off-line data for various computing systems, including the Linux platform, is still way undervalued, based on increasing demand for data-management services. He notes that major companies, including Sun Microsystems, Hewlett-Packard, Compaq, and Dell--which compete with one another--have one thing in common: They are original-equipment Veritas customers.
That may explain why Nakahara's estimates are rosier than the Street consensus: For 2000, he expects earnings of $200 million, or 75 cents a share, on revenues of $1.1 billion, vs. the Street's projection of $193 million, or 65 cents, on $1 billion sales. He sees the stock hitting $200 this year.
Before it's here, it's on the Bloomberg Terminal.
LEARN MORE