Who's Dot And Who's Not?
When it comes to small business, nobody seems to know
Alison Stein Wellner
Just how many small businesses are on the Internet? According to some estimates, more than half of all your peers have Web sites, making the entrepreneurial community look like a pretty well-wired bunch. But, wait, not so fast: Other surveys show that 6 out of 10 small companies lack even basic Internet access--in other words, they don't even have e-mail.
Has somebody goofed? While many credible research outfits are studying small-business usage of the Net, you'd be hard-pressed to find two surveys that agree even on the basics, such as how many are connected to the Web (chart), let alone how many actually run a site or do e-commerce.
"Beyond vague estimates, we know very little," concedes Bruce Phillips, director of the Office of Economic Research at the Small Business Administration's Office of Advocacy, which recently compiled a review of such private research reports. It's possible to get a general idea of small-business activity online from these surveys--for example, studies by Dun & Bradstreet and another by Yankelovich Partners for Pitney Bowes confirm that small businesses tend to use the Net for research and for e-mail.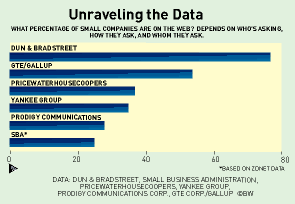 So why won't any of their numbers match up? First problem: The number of small businesses online changes hourly. Second, definitions of "small business" vary by research entity. Pitney Bowes looked at companies with 24 or fewer employees, while Prodigy Communications Corp. went up to 99. And what does "being on the Internet" mean, anyway? To Prodigy, it's "advertisement and promotion on the Internet," while others say it's using e-mail or having a Web page. Results also vary because of differing goals and methodologies: PricewaterhouseCoopers wanted to know what fast-growth companies are doing online; GTE Corp. and the Gallup Organization assessed attitudes toward the Internet; Prodigy looked for businesses that weren't wired.
Despite the conflicting data, there's at least one sure bet: The number of small companies in cyberspace will rise as the Web increasingly becomes a necessity. "How many businesses are operating without a telephone?" says Rick Miller, an Internet analyst at Cahners In-Stat in Newton, Mass. The next survey might well ask: How on earth did you function without the Internet?
For more on how small business uses the Web, click Online Extras at frontier.businessweek.com
Before it's here, it's on the Bloomberg Terminal.
LEARN MORE