business
U.S.: Steering Clear Of The Limits But Where Are They?
Even though inflation is tame, Greenspan won't take any chances
By
Was it another 5% quarter? We won't know for sure until the Commerce Dept. reports on fourth-quarter gross domestic product on Jan. 28, but based on preliminary data, economic growth might well have been in that neighborhood. If so, coming after the third quarter's 5.7% burst, it would be the economy's strongest two-quarter pace in more than a decade.
It's little wonder, then, that Federal Reserve Chairman Alan Greenspan on Jan. 13 spoke a great deal about the economy's "limits," specifically the boundaries on growth in overall demand and those on the pool of available workers. In a period of such rapid technological progress, in which productivity is helping to stretch those lines, Greenspan said: "Admittedly, we are groping to infer where those limits may be. But that there are limits cannot be open to question."
The economy's powerful momentum heading into the new year strongly suggests that the economy is pushing those limits a little too hard for comfort. Recent data show that retail sales in both November and December were red hot, and industrial production last quarter grew at the fastest pace in two years (chart).
Also, there appears to have been some boost to fourth-quarter growth from Y2K-related effects, after all. November inventories shot up at three times the pace of previous months, and December retail sales of food and drugs posted exceptionally large gains. Some slackening in those and any other affected areas will depress first-quarter growth to some degree. But outside of diminished housing activity, there is little to suggest that the underlying strength of overall demand and output is waning.
THAT'S WHY FED WATCHERS are nearly unanimous in expecting another quarter-point rate hike at the Fed's Feb. 1-2 meetings, based on a Jan. 14 survey by Standard & Poor's MMS. However, with December price indexes so tame, Greenspan & Co. believe there is little urgency to act. But that doesn't mean that a February rate hike will be the last, especially if demand stays torrid and labor markets keep tightening.
The latest numbers show no letup in spending, especially by consumers. Retail sales in December rose 1.2%, after a strong 1.1% surge in November. Excluding cars, retail receipts increased 1.4% at yearend, the largest monthly gain in more than 3 1/2 years. The sales gains were broad, although receipts at grocery stores shot up by 2%. They haven't racked up a monthly increase that large in nearly nine years.
The beat continued in January, based on early reports. In the first two weeks of the month, seasonally adjusted sales jumped 1.9% from the December level, says LJR Redbook Research. And the University of Michigan's preliminary reading of consumer sentiment rose to a new record in January.
The only area showing a little fatigue is housing. In December, housing starts jumped 7.1%, to an annual rate of 1.71 million, lifted by unusually warm weather (chart). But the average for the fourth quarter was about even with that of the third and below the level a year earlier. Starts flattened out at the end of 1999 as 30-year mortgage rates rose more than a full percentage point--an offshoot of the bond market's reaction to Fed tightening. But stock market gains and record optimism still buoy demand.
Indeed, homebuilders reported that overall housing-market conditions remained "relatively good" in January. The builders' index dipped to 71 in January, not much of a drop from the 72 averaged in the second half of 1999 and the first half's 74. The index gauges current and expected sales and traffic through model homes.
KEEP IN MIND, THOUGH, that housing's direct influence on economic growth is only one-third of that for exports, which are speeding up amid a global recovery. Stronger foreign demand and unrelenting domestic spending are lifting the U.S. manufacturing sector.
For example, December industrial production rose 0.4%, and for the quarter, output increased at an annual rate of 6.5%, the strongest quarterly advance in two years. Industrial capacity utilization in December rose to 81.3%, the highest in more than a year, although not so high as to raise concerns about production constraints and possible price pressures.
Further gains in output seem likely this year. Strong demand last year took inventories down to very low levels relative to sales, and some stock rebuilding will be necessary. Also, unfilled orders outside of aircraft soared to a record level at the end of 1999, suggesting a buildup of future production in the pipeline.
Some of the large 0.9% increase in November business inventories may well have been Y2K-related. The increase was three times the 0.3% monthly gains that were typical in the previous six months, and most of the month's rise was in wholesale and retail trade. Still, the fact that overall business sales in November rose by an even stronger 1.3% suggests that the gain in stockpiles was easily in line with demand. That should mitigate the negative effects on economic growth of any inventory rundown in the first quarter.
AS GREENSPAN NOTED, the economy's limits cannot be accurately defined, but evidence that the U.S. has moved above its potential will show up in price pressures. So far, inflation remains quite low even after four years of rapid growth. And one reason to think that price increases will remain small in 2000 is the growing influence of the Internet on shopping.
Consumer prices rose 0.2% in December, and, excluding food and energy, core prices increased just 0.1%. For all of 1999, consumer prices rose 2.7%. That's much higher than the 1.6% increase in 1998, but most of the runup was caused by higher energy prices. That runup continued into 2000. The price of oil topped $29 per barrel on Jan. 19, a nine-year high.
Core inflation, however, slowed in 1999, with prices up 1.9% for the year, compared with 2.4% in 1998. One area that showed much slower price growth was recreational items (chart). That category includes toys, books, music, and pet supplies--items easily procurable on the Internet. As the Net provides more competition to brick-and-mortar stores, more retailers will find it difficult to raise prices.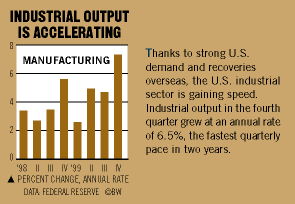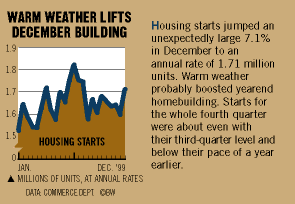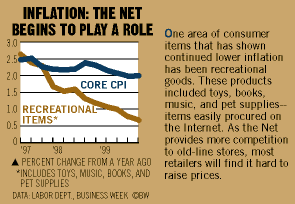 At the same time, though, businesses are confronting higher costs. Tight labor markets are exerting upward pressures on wages, and the cost of materials is beginning to rise. Although core producer prices for finished goods rose only 0.9% in the year ended in December, prices for goods further back in the production process have stopped falling. Core raw materials, in fact, have shot up 13.6% in the past year.
If the Fed wants to curtail these cost pressures, it will have to curb demand so that growth slows to within the economy's speed limit. That didn't happen in 1999, which only increases the burden on policymakers in 2000.
Before it's here, it's on the Bloomberg Terminal.
LEARN MORE