The Cable Tv Of Radio?
Satellite audio could be the next big thing--or a big flop
Steven V. Brull
Not many startups, let alone those in unproven businesses, can afford a private Sting concert. But the British rocker was grooving at a bash last November to help Sirius Satellite Radio Inc. open high-tech, 100,000-square-foot broadcast studios in New York's Rockefeller Center. "You're not a bad-looking crowd for a corporate gig," Sting told the hundreds on hand, who were milling among well-stocked bars and food tables.
To be sure, the coffers are flush, and the spirit is sky-high at Sirius and its rival, XM Satellite Radio. Sirius, which until the Sting concert was known as CD Radio Inc., has backing from the likes of Loral, Ford, financier Sid Bass, and Apollo Investments. And XM, based in Washington, is backed by General Motors, its DirecTV subsidiary, and radio giant Clear Channel Communications. Together, the two have raised nearly $2 billion, and the stock market has rewarded them handsomely: Since the beginning of 1997, Sirius shares are up tenfold, to $44. And since going public in October, XM stock has nearly tripled, to $35.
100 NICHES. Why the fuss? Because investors think it could be the next hot entertainment-meets-technology business. Beginning early next year, both companies plan to use satellites to beam 100 niche channels of news, talk, and music. The channels will have digital, CD-quality sound and, in the case of Sirius, music channels will be free of commercials. If analysts are right, as many as 50 million people--most of them commuters, RV owners, and truckers--could sign up for these services by 2008 (chart). All that's required for radiophiles is that they either buy satellite radio receivers--or drive cars equipped with them--that run $125 more than typical car radios, plus shell out $10 a month in subscriber fees. "We think this is to radio what cable is to TV," says David Margolese, Sirius' chairman and chief executive.
But it remains to be seen whether this might instead be radio's equivalent of HDTV: a big yawn that few consumers will pay for. Beyond the challenge of getting satellites into orbit, both companies face competitive, regulatory, and technical hurdles that could foul their plans. And even if their launches go smoothly, growth could be curbed by new rivals offering other alternatives, such as wireless Web radio. "There are a lot of risk factors, any one of which could neutralize them in the marketplace," says Lon Troxel, president and chief executive of DMX LLC, which distributes digital music to more than 3 million cable customers in the U.S.
MOVING TARGETS. Perhaps the biggest problem is that Sirius and XM Satellite Radio may not be true satellite services after all. For all their advances, the satellites they aim to launch can't deliver a perfect, continuous stream of music to mobile listeners from coast to coast. Unlike satellite-TV services such as DirecTV and EchoStar Communications Corp., satellite radio beams its signals to moving receivers, so reception is often disrupted by mountains, buildings, and even trucks moving alongside cars. So XM plans to build as many as 1,700 transmitters in urban markets, and Sirius, whose satellites will perch higher in the sky, plans to build 110. The risk is that even these repeater networks could fail to provide the seamless service that subscribers will demand. "If they don't have enough repeaters for quality service, they'll be out of business," says Michael Alpert, president of Alpert & Associates in Washington, a satellite consultancy.
Then there's regulatory static. For Sirius and XM to start on time, they'll need a nod from the Federal Communications Commission, which wants the two to develop a receiver that will work for both and not lock consumers into one service. But the two operators hope to wait a few years before designing a common receiver to keep hardware costs down and avoid a competitive free-for-all.
New technologies on the horizon could also block progress. For instance, car radios are being developed that will offer instant access to thousands of tracks stored as so-called MP3 files off the Web. Good old terrestrial radio--which has boomed in the past several years thanks to the advertising bonanza--also is in the midst of a slow transition to digital transmission. So satellite services could lose their competitive edge in sound quality. Margolese says he's not worried, insisting that less than 20% of commuters actually listen to CDs or tapes in their cars. "MP3s are pre-recorded, so they're more hassle," he says. Finally, the proliferation of high-speed Internet connections to the home and, later via cellular systems, to the car, will give a boost to Internet radio. Boasts Tim Bratton, president of Internet radio startup Tuneto.com, in Redwood City, Calif.: "Rather than just 100 channels, why not 10,000 or 1 million? That's where we're going."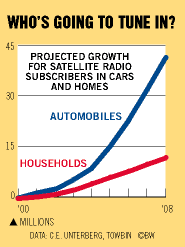 For now, though, the shrewdest move by the satellite radio entrepreneurs may have been to recruit Detroit. Beginning later this year, GM and Ford will install their partners' receivers in new models. Other carmakers are expected soon to announce their support for one operator, or both. Some 16 million new cars are sold annually, plus a further 6 million car stereos installed separately. And, for all the big risks he's taking, Margolese says that for Sirius to break even on cash flow, he needs as subscribers only 1% of the 180 million vehicles on the road in the U.S. today. "This is one of the most compelling businesses to come along in a long time," says William Kidd, a satellite analyst at C.E. Unterberg, Towbin. Perhaps. But as Sting well knows, there's a big difference between being a headliner and merely being a warm-up act for a real star.
Before it's here, it's on the Bloomberg Terminal.
LEARN MORE