Canada: Why Interest Rates Are Headed North
by
Spurred by solid labor markets and robust demand, the odds are rising that the Bank of Canada will have to follow its U.S. counterpart, the Federal Reserve, in hiking interest rates in 2000 despite little evidence of higher inflation.
December payrolls rose by 42,000, after three even bigger gains. For the fourth quarter, jobs grew by 182,000--the largest quarterly increase on record (chart). Other signs of tighter labor markets are growing. Almost all of the new jobs in December were full-time positions. The jobless rate remained at an 18-year low of 6.9%. And help-wanted advertising in December jumped 11.6% from a year ago.
Stronger job markets should keep consumer spending growing at a healthy clip. So far, though, exports and capital spending are fueling the gains in Canada's real gross domestic product. The data on industrial production, housing, and retail trade suggest that real GDP grew 5% in the fourth quarter, after a 4.7% surge in the third quarter. Inventory accumulation, the result of both Y2K concerns and the usual precautionary winter stockpiling, likely added to output at yearend.
For 2000, Canada's economy is projected to grow by about 3%. Not only should consumers pace growth, but rising commodity prices and faster overall world demand should improve prospects for the resource-dependent western provinces.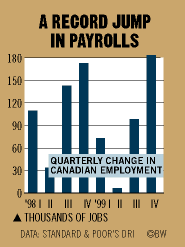 Despite a bright growth outlook, inflation should remain low. Tighter labor markets are beginning to push up hourly pay raises. But yearly wage growth is still a bit below the overall 2.2% inflation rate, which is well within the BOC's target range.
Nonetheless, the BOC will likely have to hike rates this year in order to keep Canadian financial assets competitive with those of the U.S. The Canadian dollar fell slightly against the U.S. dollar early in 2000 when investors worried that the BOC would not match Fed tightening. However, the latest data suggest that the Canadian economy carried enough momentum into 2000 that it can weather some policy tightening.
Before it's here, it's on the Bloomberg Terminal.
LEARN MORE