Brazilians May Put Rouge In The Pink
by
Shares of Rouge Industries (ROU), a producer of flat-rolled carbon steel products--primarily to carmakers--have been down on two counts: Steel stocks have yet to join the bull market, and Rouge has not yet fully recovered from a couple of mishaps. In February, 1999, an explosion damaged one of its plants, and in November, a power outage disrupted operations. The stock has been on the skids, down from 14 a year ago to 7 9/16 on Jan. 19. "The whole steel industry is depressed, but Rouge is very depressed," says Waldo Best, a steel analyst at Morgan Stanley Dean Witter.
But don't count Rogue out just yet. Best thinks the stock has become a cheap buy. The company has no debt--and has healthy cash flow, he notes. And Rouge's book value is estimated at $19 a share. Best expects Rouge to earn $1.05 a share this year, vs. a $1.75-a-share loss in 1999.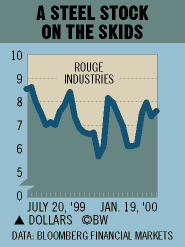 Some hedge funds have been buying shares of late for one other reason: They say a Brazilian company is negotiating to buy Rouge for twice its current price. "The explosion had broken off talks," says one New York fund manager, "but the parties resumed talking recently." He says Rouge will give the Brazilians U.S. manufacturing capabilities and an entry to the Detroit market. The foreign suitor produces slab steel that companies such as Rouge use as raw material in making finished steel. Rouge CEO Carl Valdiserri owns 54% of the voting shares. A company spokesman declined comment.
Before it's here, it's on the Bloomberg Terminal.
LEARN MORE