U.S.: So Hard To Get Good Help These Days
The upward pressure on wages from tight labor could spark a Fed hike
By
Even the most indifferent college student comes away from an economics course with this basic understanding of supply and demand: All markets will clear at a certain price. That simple concept holds true even in today's increasingly complex economy, and it is especially relevant to today's labor markets. That's why policymakers at the Federal Reserve will keep in mind their Econ 101 lessons when they set monetary policy this year.
As is evident from the December employment data, strains on the labor supply are the greatest they have been in a generation, even as the unrelenting strength in spending by consumers, businesses, and foreigners means that the demand for workers will not let up anytime soon. The result: The price for labor--in this case, wages--is under strong upward pressure.
The recent shrinkage in the pool of available workers is not hard to figure when you consider how fast the U.S. economy has expanded in the past four years. In that time, real gross domestic product grew 4% annually. And even though productivity rose at a spectacular 2.6% per year in that period, businesses still needed to add on almost 3 million new workers a year.
This strong hiring pace absorbed much of the excess labor in the U.S. Consequently, by December, the pool of workers who want to work but do not yet have a job had shrunk to a near record low (chart). Moreover, the fact that the jobless rate has continued to trend lower means that 4% growth is above the economy's sustainable noninflationary growth rate.
THE DANGER IS THAT as the labor pool dries up, an acceleration of wages will touch off a pickup in inflation just when it seems that price stability has arrived. To offset higher wages and maintain that price stability, productivity would have to grow even faster than its already speedy pace. Or more likely, the only other way to derail labor-cost pressures is for economic growth--and thus, labor demand--to slow significantly. The surest way for that to happen is for the Fed to keep hiking interest rates until it does.
The December job data made it clear that the labor markets continued to be stretched thinner. Nonfarm payrolls rose a larger-than-expected 315,000. For the fourth quarter, new jobs averaged 274,000 a month, the largest quarterly gain for the year.
In addition, the rebound in industrial activity may be translating into a turnaround in factory jobs. Manufacturers added 8,000 workers in November, and cut just 1,000 last month. Compare that with losses averaging 26,000 per month in the first 10 months of 1999.
Private-service companies added 234,000 new workers in December. Retail payrolls alone jumped by 65,000, after holding steady in the previous four months.
As it usually does every December, the Labor Dept. included new seasonal factors and made small revisions to the historical data. The new adjustments helped to hold the unemployment rate at 4.1% in December. Using the old factors, the rate would have slipped to 4%. Either way, the jobless rate is at its lowest since January, 1970, and the recent pace of job growth, if maintained, is guaranteed to send joblessness below 4%.
NONETHELESS, THE FED is relying on new data to understand truly what is going on in the labor markets. The Fed has broadened the number of unemployed by including jobless workers between 16 and 64 years old who have stopped looking for work but are willing to work. Under this new measure, the supply of available labor in December remained near its record low of 9.5 million set in October. That works out to a record low 6.9% of the potential labor force who want a job.
Another sign of tight labor markets is the growing number of people who have quit their jobs without another waiting for them. The "quit rate" has jumped from 12% of all unemployed workers at the end of 1998, to 14.4% in December, 1999. A high quit rate is a sign that job jitters are on the wane. The rise in the quit rate goes hand in hand with the recent Conference Board's find that a record 51.5% of consumers think jobs are plentiful.
That perception of easy employment may embolden workers to demand bigger pay raises (chart). And not just those who are switching jobs. The inflationary danger is that businesses will have to raise wages just to retain existing workers, and red-hot demand could allow the price hikes needed to cover the added cost.
Although wage growth has not yet eclipsed the acceleration of 1998, pay gains seemed to have bottomed out last summer. In December, the average hourly pay for production workers increased 6 cents, to $13.46. Wages rose 3.7% in the year ended in the fourth quarter. That pace still puts wage growth below its expansion high of 4.2% in mid-1998, but it has stopped falling. Moreover, in early 1999, overall pay gains were held down by the sharp slowdown in factory earnings as manufacturers pared their payrolls. Over the past two quarters, factory pay has been growing just as fast as the 3.7% pace of wages at service companies.
Keep in mind, though, that the monthly wage data cover an increasingly smaller share of the workforce. To get a better idea of where labor costs are headed, the Fed will scrutinize the more encompassing employment cost index. The ECI, which includes wages, salaries, and benefits, will be released by Labor on Jan. 27, just days before the Fed's next meeting on Feb. 1-2.
THE HEADY STATE of the labor markets is partly responsible for the euphoria among consumers. That's why households are still spending at a rapid pace in the new year and why they are not afraid to borrow huge sums of money. In November, installment debt jumped $15.6 billion, three times the gain in October (chart). Consumers are on track to take on $95 billion more in installment debt in 1999, the most in four years.
The consumer spending spree will strain the labor markets further in 2000. That's because as long as domestic demand remains strong, businesses will need to hire more workers. New jobs contribute to more increases in incomes and more spending. Add in the continued gains in the stock market, and it's easy to see that households have the wherewithal to keep spending.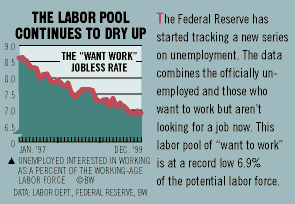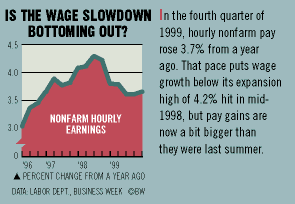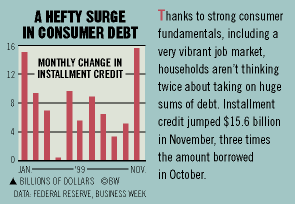 What can stop them? A strong dose of tighter money. Higher interest rates will cool off the stock market, curb new borrowings, and slow demand. Only then will businesses ease up on hiring.
What the employment data do not show is how many jobs are going unfilled because businesses cannot find qualified workers. The Fed relies on anecdotal reports, including those contained in its Beige Book, to gauge such labor shortages. But the real confirmation of any imbalances will be found in wages. As long as the demand for labor outpaces supply, look for wage growth to accelerate at a faster pace than the Fed desires.
Before it's here, it's on the Bloomberg Terminal.
LEARN MORE