YouthStream Media Networks (NETS), formerly known as Network Event Theater, is aimed straight at the much-sought-after young adult market, including high school and college students. It provides offline and online media and marketing services, such as instant messaging and content for students on various pursuits including travel, shopping, and music. And with its recent acquisition of sixdegrees.com, an online community of 3 million members in 165 countries, YouthStream has become an enticing target, say some pros, for the likes of News Corp., one of the leading media companies with the greatest appeal to young adults. Since News Corp., headed by media mogul Rupert Murdoch, is the largest investor in sixdegrees, it has become a big investor in YouthStream.
"I wouldn't be surprised if News Corp. increases its stake in YouthStream," says media analyst Scott Barry of Raymond James & Associates. He rates YouthStream a buy. The stock, first highlighted in this column on Dec. 21, 1998, when it was at 10, hit 32 on Dec. 14, 1999, before easing to 24 on Jan. 12. Barry says the stock is worth 65 because it is positioned to be the dominant hub targeting young adults.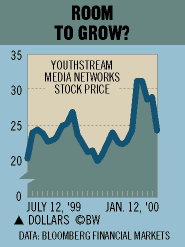 YouthStream's purchase of sixdegrees gives it access to News Corp.'s Fox Broadcasting sports and news feeds, for incorporation into its Web site--mybytes.com. YouthStream CEO Harlan Peltz says there will be a lot of opportunities to integrate Fox content further into mybytes.com, the premier Web site for the 15 million-strong college market. James Murdoch, executive vice-president of News Corp., says the combination of YouthStream and sixdegrees can play a "significant role in our Internet strategy." News Corp. looks forward to "exploring ways to deepen its relationship with YouthStream," he adds.
Before it's here, it's on the Bloomberg Terminal.
LEARN MORE