A City Transformed By A Fish...Worries That The Boom Won't Last
Greg Brown
Puerto Montt, a port town in southern Chile, has long been known as the tourist stop that isn't--a collection of unpainted shacks and broken pavement overlooking an otherwise postcard-perfect bay. Despite beautiful views of ocean and volcanoes, renowned seafood, and richly stocked handicraft markets, most tourists move on quickly to parks and resorts further south.
But Puerto Montt is waking up nevertheless, largely thanks to a handsome fish, onchorhyncus kisuth, with tasty pink flesh. Since the salmon-farming boom began in these parts a decade ago, some 35,000 jobs have been created in Chile's 10th Region, a traditionally poor province of rolling farmlands, mountains, and rustic fishing villages. Many of the jobs are concentrated in and around 150,000-inhabitant Puerto Montt, thanks to a nearby airstrip. The best customers for Chilean salmon are finicky Japanese restaurant buyers, so the fish has to be cut into sushi-ready filets, frozen, and shipped by air within hours of harvesting.
Local producers, whose processing plants line the highway between the city and airport, are talking of doubling, even tripling their capacity in the coming decade. "We are planning to grow 100% over the next three years," says Salmoamerica Chief Executive Thomas Kehler, whose 550-employee Chilean-owned company has sales of $30 million on a $12.5 million investment. "And we can do that within the limits of the operations we already have."
The flood of salmon investment--some $4 billion in the 1990s--has cut regional unemployment to 6%, nearly half that of the nation. In 2000, Chile's salmon exports are set to exceed $1 billion, up from just $159 million in 1991. Salmon now earns double the export value of the better-known Chilean wine industry and is helping diversify the economy away from dependence on copper, worth some $7 billion a year, about one-eleventh of gross domestic product.
This rapid growth may well continue, since salmon farming uses cheap, relatively simple technology. Improving genetics and better farming techniques are driving down costs fast. "In 1985, it cost $10.20 to produce a kilogram of salmon in Chile," says Alejandro Pizarro, head of Pesquera Eicosal Ltd., a 580-employee company that racks up $35 million in sales annually. "In 2000, it will cost $2.40." Bolstered by declining costs, investors plan to fully exploit the coast of the 10th Region and then extend their reach south into the chillier, island-dotted 11th Region.
BACKPACKERS. Thanks to the boom, run-down Puerto Montt suddenly looks upwardly mobile. A colorful, three-floor mall opened in 1997, and a second is planned. Poverty rates dropped during the '90s, from 40% to 29%. Meanwhile, clapboard hostels for backpackers and laborers are giving way to reasonably priced business and tourist hotels. Housing starts have nearly doubled, and business construction is up by one-third.
Some view the changes with skepticism. "I guess it's good that things are picking up, but I don't want to lose sight of our values," grumbles taxi driver Juan Rivas, 57. "We sure don't want the crime problems they have in Santiago." In fact, crime has declined slightly over the past few years--which may have something to do with all those jobs.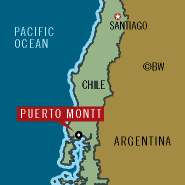 The salmoneros do face some serious obstacles. Chile, which dramatically reduced world salmon prices when its export-savvy government began promoting salmon farming a decade ago, now faces the challenge of adding value to a product that has become a commodity. Upmarket products, mostly aimed at busy U.S. families, such as filets packed with condiments and recipes, make up more than 50 cents on the dollar of salmon export income. "Before, supermarkets didn't want to hear about value-added products," says Rodrigo Infante, of the Association of Chilean Salmon & Trout Farmers in Santiago. "But we have to do this. If you're in a commodity market and the price drops, you're dead."
An even bigger worry is tougher competition. Chile currently enjoys an advantage because fishmeal and fish oil, the main components of the feed used in salmon farms, are produced cheaply here. But U.S. salmon farmers accused Chilean salmoneros of dumping their goods below cost in 1997, a case that resulted in small punitive tariffs. That makes the Chileans nervous about underselling competitors. "My dumping office is bigger than my accounting office," fumes Kehler. But salmon still looks to be the savior of the south.
Before it's here, it's on the Bloomberg Terminal.
LEARN MORE