Univision Peers Into Cyberspace
Can the Hispanic TV giant transfer its clout to the Web?
by
It's part Ed Sullivan, part infomercial. TV host Don Francisco leads a bleacher full of audience members through Feliz Navidad--then yields the stage to models in low-cut dresses, who sing the praises of sponsor Allstate Insurance. Moments later, a mother's tear-filled story about estrangement from her daughter is interrupted by another model extolling Exxon Mobil Corp.
With its unabashed blend of entertainment, drama, and promotion, Sabado Gigante, or "Giant Saturday," is a staple of weekend viewing for as many as 2 million Spanish-speaking homes in the U.S. each week. Along with soap-opera "telenovellas," movies, and news, it provides the programming backbone for Univision Communications Inc., a string of mostly UHF stations and cable outlets that is the nation's fastest-growing and most profitable broadcast company. With 91% of the blazing U.S. Hispanic market--more Spanish-speaking viewers than the four major networks combined--Univision isn't shy about throwing its weight around. "They can pretty much do what they want. They have that much clout," marvels James McNamara, president and CEO of Telemundo Network Group LLC, a distant No. 2 with 9% of the Hispanic market.
Univision demonstrated that muscle last month when, in preparation for launching its own Internet service, the network refused to run other Web companies' ads on its TV shows. The move outraged ad executives who scoffed at Univision's clumsy attempt to leverage its TV brand.
But Univision will hardly miss the Web-ad revenues. It's adding lots of younger TV viewers while the big networks are losing them. That has helped it sell $425 million worth of ads for this season's programs--42% more than last year, and more than triple the growth rate of the big networks. Univision's 1999 operating earnings should rise by 50%, to $197.2 million, on 16% higher sales of $671 million, estimates analyst Niraj A. Gupta of Schroder & Co. Investors responded by nearly tripling Univision's stock price in the past year, to about 100.
CEO A. Jerrold Perenchio bought control of Univision in 1992 from Hallmark Cards Inc. for $550 million, and quickly rebuilt it to tap into the booming Hispanic market. Total spending by U.S. Hispanics, estimated at $411 billion last year, is expected to grow 30% in the next 10 years. Perenchio, 69, who now owns 22% of Univision's shares, ramped up programming, producing a Spanish version of Sesame Street and beefing up news and sports. His team of new execs inked long-term deals with Mexican media giant Televisa and Venezuela's Venevision to give Univision three hours a night of their tear-jerking novellas. To keep teens tuned in, they added youth-oriented soaps. Says Merrill Lynch analyst Jessica Reif Cohen: "They listen to their audience better than any network around."
At the same time, Telemundo's share slid dramatically, from 40% of the market in the early '90s. The network, purchased in 1997 by Sony Corp. and AT&T's Liberty Media Group, flopped with such missteps as Spanish knockoffs of Starsky and Hutch and Charlie's Angels. Only recently has Telemundo regained its footing--mostly by reemphasizing novellas.
"COERCION?" Some advertisers say Univision isn't shy about strong-arming them to increase their buys. "It borders on coercion," says Gregorio Bennett, president and creative director of Hispanic marketing agency Luna Bacardi Group in Santa Monica, Calif. Bennett, whose agency plans Spanish-language marketing and promotional campaigns for such clients as Pillsbury, Land O' Lakes, and Columbia TriStar Pictures, says he refused Univision's demands that his agency spend 85% of its budget with the network. After meeting with top Univision executives, he agreed to pay them 60% of his overall budget. Perenchio is notoriously press-shy and refused to be interviewed for this story. Univision executives would not comment on their ad policies.
Will that market muscle translate to the Net? Informed sources say that in March the company will launch Univision Online, a Spanish-language Web portal that will include sports, news, and entertainment, along with a link to a shopping site backed by Home Shopping Network, which airs a show on Univision's Galavision cable channel. Univision Online also will offer free computers to those who buy long-term subscriptions.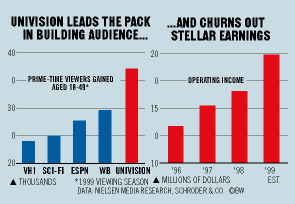 Univision apparently hopes to leverage its TV dominance--and stars--to entice Hispanic users onto the Web. So far, only about 7 million of the 32 million Spanish speakers in the U.S. are online, says Internet consultant Jupiter Communications Inc. Still, Univision is starting late. Star Media Networks, the largest Spanish-language Net-access provider in Latin America and in the U.S., has powerful equity partners in NBC Inc. and Hearst Corp. In the last two years, it has spent more than $100 million on marketing the StarMedia.com sites and captured 1.2 million page views in the third quarter, up 71% over a year earlier. In November, News Corp., Comcast Corp., and others sank $67 million into Yupi.com, a network of Spanish-language sites. And Telemundo is a partner in Quepasa.com Inc., which is also backed by Fox Entertainment Group. Says Betsy Scolnick, Star Media's senior vice-president for business development: "It's going to take a lot for Univision to make an impact in this space."
Still, the company has shown a keen ability to lock up audiences. And while Univision may be late to the party, competitors would be ill-advised to write it off. They may soon be facing a new Gigante on the Web.
Before it's here, it's on the Bloomberg Terminal.
LEARN MORE