U.S.: What's Worrying Wall Street: Tighter Money
Red-hot demand and strained labor markets may force more rate hikes
by
Wall Street is entering the new year in the grip of Fed-phobia. The bond market started to come down with it a few weeks ago, and now it seems to be spreading to the stock market.
It's not an unreasonable fear. Now that the world's computers safely recognize the year 2000, Wall Street believes there are no liquidity problems to stop the Fed from nudging up interest rates yet again, perhaps as soon as its Feb. 1-2 policy meeting. Such a move would be considerably earlier than the markets had been expecting as 1999 wound down. Already, the credit markets have priced a February rate hike into the yields on key securities, as well as an increasing chance of another tightening in March.
What might have been unreasonable was the Dow Jones industrial average's surge at yearend--coming at the same time the bond market was tanking. That plunge in bond prices sent the yield on the 30-year Treasury bond soaring from just over 6% to more than 6.6%, a 27-month high. But in the same final six weeks of 1999, the Dow gained some 900 points. It wasn't until the new year that worries about higher rates began to spread. On the first trading day of 2000, the Dow fell 140 points, followed by a 360-point drop the next day. And on Jan. 4, the tech-heavy Nasdaq index plunged a stunning 5.6%. The Dow managed to recoup 125 points on Jan. 5, even as bond yields climbed sharply higher.
THE MARKET JITTERS are easy to understand when you consider that six months after the Federal Reserve began raising rates, there are still no concrete signs that the U.S. economy, with its consumer-powered demand and its drum-tight labor markets, is cooling off. The latest evidence: Carmakers said that December sales were gangbusters, and early reports show that retailers, along with e-tailers, enjoyed one of the best Decembers of the decade.
Also, the latest factory reports from the government and the nation's purchasing managers look strong (charts). Plus, Y2K-related distortions, especially from inventory gyrations, are now expected to impart little, if any, drag on first-quarter growth, even as foreign economies continue to shift into a higher gear.
In addition, you can add in one other ingredient to this year's policy mix: The four Federal Reserve district presidents who rotate onto the policymaking committee in 2000 tend to be a bit more hawkish on inflation than the four members they replace. Clearly, Fed Chairman Alan Greenspan, renominated by President Clinton on Jan. 4 for a fourth term, will still wield the most influence around the big oval table, but the new composition will almost certainly affect the debate.
To be sure, the financial markets, especially for bonds, are helping to supply the tighter financial conditions that the Fed would like to see. But keep in mind that last year's rise in long-term rates had only a small negative impact on housing demand--the economy's most interest-sensitive sector--and no discernible effect on the overall economy.
Moreover, last year's fluctuations in both the bond and stock markets show that, unless the Fed validates market expectations by raising rates, the markets will only rally again, putting financial stimulus back into the economy. Obviously, last year's 25% rise in the Dow will only augment the already considerable wealth stimulus that is helping to fuel consumer spending.
RECENT EVIDENCE of the continued gains in household spending includes car buying and retail sales, which have resulted in a stronger level of industrial activity. First, amid very strong December sales, domestic and imported cars and light trucks posted the highest yearly total on record: 17 million vehicles. That tops the 1998 total of 15.5 million, which was the best performance since 1986, when sales surged temporarily in response to tax-law changes and heavy dealer incentives.
Second, holiday buying last month was exceptionally robust. Based on its check-clearing data, TeleCheck Services Inc. says that its measure of same-store sales from Dec. 1 through Dec. 31 rose 5.8% from a year ago. That gain was down only slightly from the four weeks ended Dec. 24, suggesting that buying remained strong past Christmas.
Indeed, the weekly retail survey by LJR Redbook Research shows that seasonally adjusted sales in the five fiscal weeks of December rose a sizable 1.8% compared with all of November, and sales strengthened after the final week's data was included.
With consumer demand so strong and foreign demand increasing, it's little wonder that the industrial sector continues to gear up. Although the National Association of Purchasing Management's December index of industrial activity dipped to 55.5%, from 56.2% in November, the decline was small, and the index for the entire fourth quarter averaged 56.1%. That was the best quarterly showing in five years.
While the purchasers said that orders and inventory growth slowed, they also reported that production and employment picked up. In fact, the employment index hit an 11-year high. Moreover, the index of prices paid also rose and delivery times slowed. Deliveries in December were the slowest since 1995, a sign that rising demand is starting to crimp the flow of goods through distribution channels (chart). That has often been a precursor to rising pressure on prices.
THE NAPM ALSO SUPPLIED further evidence that companies were not doing much in the way of precautionary inventory-building for Y2K-related reasons. The purchasers' inventory index fell in December to a level indicating that stockpiles were actually falling. Also, the NAPM said that many companies began to believe last month that Y2K was apparently going to be a nonevent. As a result, the feared first-quarter liquidation of heavy fourth-quarter inventories won't happen, removing a possible drag on economic growth.
Government data show that factory inventory growth did pick up a bit in both October and November, rising 0.3% in each month. But that's still far slower than shipments. In the six months ended in November, factory shipments grew nearly four times faster than stock level, suggesting that further additions to inventories will be necessary in the first quarter.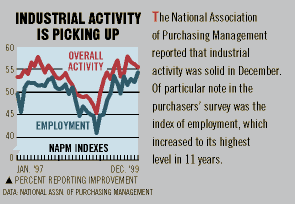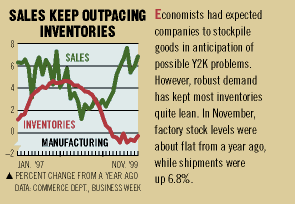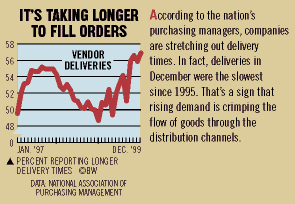 4 Manufacturers of construction-related goods are especially benefitting from the strong building sector. Construction outlays jumped 2.4% in November after price adjustment, with gains in both homebuilding and commercial construction. Housing activity ended 1999 at a high level.
The Fed made it clear after its Dec. 21 meeting that after any Y2K worries had passed, a lack of any sign that demand was cooling off to a sustainable pace would very likely elicit further action. Well, Y2K was a bust, and the economy is still red hot. It looks like Wall Street has finally put two and two together.
Before it's here, it's on the Bloomberg Terminal.
LEARN MORE