Trouble In Cinema Paradiso
Chains have gone overboard trying to lure couch potatoes
by
For Hollywood moguls frolicking in Aspen or St. Bart's over the holidays, there was more than just the end of the century to toast. From The Phantom Menace to The Matrix and Toy Story 2, there was no shortage of hits last year. In all, consumers spent a record $7.5 billion at the box office, up 8% from 1998. But for the nation's theater chains, the bubbly had lost its fizz. Indeed, for many of them, 1999 was the worst year in recent memory.
How can the theaters be doing so poorly when their main suppliers are churning out so many blockbusters? The next time you pick up a cappuccino in the marble lobby and settle into an oversized stadium seat, consider how far theaters have come from the sticky-floored, shabby movie houses of years past.
Problem is, theater owners have gone overboard trying to lure couch potatoes to the movies. Spending on multiplexes has jumped faster than the growth in moviegoers--and even much reviled ticket prices, as high as $9.50, don't pick up the slack. What's more, with all these screens, the theaters have cut their bargaining power with the Hollywood studios. And although theater operators are now scaling back building plans, there's no telling when their investments will pay off. "The whole industry just got way ahead of their customer base," says Christopher P. Dixon, PaineWebber Inc.'s entertainment analyst. "There's no way to raise the price for tickets or Cokes fast enough to offset it."
"TOO MANY THEATERS." As a result, when they tally their yearend results, each of the nation's five largest theater chains--Regal Cinemas, Loews Cineplex, Carmike Cinemas, AMC, and United Artists--are likely to report either losses or reduced earnings from a year ago. Another chain, Mann Theaters, was purchased by a pair of Hollywood studios in October after filing for bankruptcy. "We're finding that there are just too many theaters out there right now," says Phil Smitley, the controller of Carmike Cinemas Inc., the country's No. 3 chain with 2,716 screens at 451 locations. The Columbus (Ga.)-based company announced in December that it would not meet analysts' fourth-quarter estimates. Its stock is off 63% over the past year. For months, Hollywood insiders have expected United Artists Theater Circuits Inc., with 2,069 screens at 300 sites, to declare bankruptcy. Despite a massive restructuring program, UATC lost $67.9 million in the first nine months of 1999.
And money-losing AMC Entertainment Inc., based in Kansas City, Mo., is rumored to be up for sale, reeling after the death in July of founder Stanley H. Durwood.
Theater chains have paid dearly in their zeal to expand. Since 1996, the six largest have spent $2.8 billion to build snazzy new multiplexes, according to Roger Smith, an industry analyst and longtime studio executive. In the process, the number of screens in the U.S. rose to 34,168, according to the National Association of Theatre Owners, a 33% increase over five years. (The number is estimated to top 36,000 for 1999.) But movie theater attendance grew only half as fast over the same period, with 1.5 billion tickets sold in 1998. Nor is building new multiplexes cheap. According to Dixon, they cost as much as $1 million per screen to build, about four times the cost of theaters without all the extras such as stadium seats.
COMING SHAKEOUT. Amazingly, though expansion plans are being curtailed across the industry, more screens are slated to be added. One aggressive builder is Regal Cinemas Inc., which was acquired by buyout firms Kohlberg Kravis Roberts & Co. and Hicks, Muse, Tate & Furst in 1998 for $1.2 billion. The company spent nearly $425 million in 1999 to add 867 screens and plans to build 400 more this year.
"People have to stop focusing on growth for growth's sake and stop plopping 30-plexes across the street from somebody else," says Shari E. Redstone, president of National Amusements Inc., the private chain that controls Viacom Inc.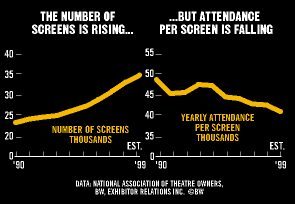 The oversupply of screens hurts in less obvious ways. For one thing, deals with Hollywood are still structured on old moviegoing habits. That means studios get as much as 90% of ticket revenue for the first week of a film's release, dropping closer to 50% for future weeks. But nowadays, hit movies have shorter runs because viewers have no problem getting in to see them, so the theaters never catch a break. What's more, the chains have also lost their clout to cut a better deal. "We don't want to lose any of them," says Larry Gleason, president of worldwide distribution for Metro-Goldwyn-Mayer Inc.'s studios. "But with so many theaters, if one operator demands too much . . . we can always go to someone else."
Finding buyers for the distressed chains could be tough. No rivals have come forward to buy up AMC, even though its stock is down 60% over the past year. Maybe the future of moviegoing is a room filled with the waft of cheeseburgers: One bidder rumored to be interested in AMC is McDonald's Corp., which is said to covet the notion of selling food to filmgoers. An AMC spokeswoman says there is "no validity" to that rumor. But who knows? Maybe what this industry really needs for a turnaround is the drive-thru movie.
Before it's here, it's on the Bloomberg Terminal.
LEARN MORE