Sweden: So Far, A Hot Winter In Sweden, Too
By
Sweden's economy continues to grow at an impressive rate with few signs of inflation. Nonetheless, the central bank, the Riksbank, has indicated that further interest-rate hikes are on the way.
Real gross domestic product grew 0.9% in the third quarter from the second. Output is up 4.1% from a year ago, the fastest pace in 4 1/2 years (chart).
Consumers are powering the expansion. Household spending in the third quarter rose 4.8% from a year ago. But exports also did better in the quarter, rising 4.9%, as Swedish producers benefitted from faster growth in the euro zone. The early signs for the fourth quarter are mixed. Industrial production is trending higher, but confidence among both consumers and manufacturers slipped in November. Even so, Sweden's GDP likely grew 3.6% for all of 1999, and it is expected to rise 3.7% in 2000.
Despite robust demand, price pressures are few. Total consumer prices were up 0.8% in the year ended in November, and the underlying rate, which excludes mortgage costs and taxes, is rising just 1.6%, below the Riksbank target of 2%.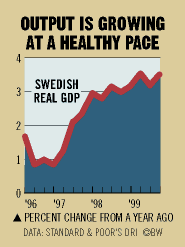 For now, Sweden is in no hurry to join the euro zone. Prime Minister Goran Persson has said that a vote to join the single-currency group probably would not take place until 2002, though technically, a referendum could be held in 2001. Surveys show that sentiment is shifting toward convergence. But with a bright domestic outlook, euro membership holds few advantages for the Scandinavian nation.
In fact, Sweden's independence allows the Riksbank greater leeway for monetary policy. Already, the central bank has given notice that further rate hikes are in the offing. With Sweden's unemployment rate at a low 5.2% and producer prices trending higher, the Riksbank wants to head off any cost pressures from infiltrating the strong economy. To that end, the bank lifted its target repurchase rate from 2.9% to 3.25% at its November meeting. And investor expectations are rising that another hike could come at the next meeting, on Feb. 3.
Before it's here, it's on the Bloomberg Terminal.
LEARN MORE