Net Newbie @Plan: Still Undiscovered
by
This Internet newcomer with the unusual name of @plan (APLN) is a major player in a hot new business, but it hasn't attracted the attention other Web stocks get. Now at 12, the stock is down from its May IPO price of 14. Based on the brand-name quality of its clients and its peer's high price-earnings ratios, @plan is way undervalued, some analysts say.
@plan provides online market research. This type of online research, informally referred to as Web measurement, is evolving from just counting the number of hits a site gets to evaluating the direct impact of online ads on the product or service of a company.
"This is where @plan can distinguish itself from its competition," says Jeff Baker of SunTrust Equitable Securities, who rates the stock an "attractive long-term" holding. He says @plan's research databases provide customers with the ability to measure and define the users of specific Internet sites. And it helps buyers and sellers of ad space realize the true market value of an ad.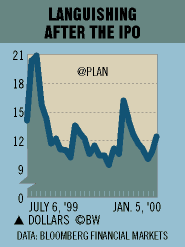 @plan's services are "highly respected in the advertising and media industries," says Baker, and are used by Saatchi & Saatchi, USWeb/CKS, eBay, Excite@Home, and CBS MarketWatch.
Based on @plan's estimated revenues for 2000 of $14.6 million, its stock trades at a price-revenue ratio of 9, compared with 14 for its peer group. Baker puts 1999 revenues at $7 million.
@plan's big rival is Media Metrix, which has more than 500 clients. Its stock has a market cap of $850 million vs. @plan's $134 million. Bear Stearns analyst Matthew Esh thinks @plan will do well despite Media Metrix, the dominant name in the business. "We believe @plan's competitive position remains very strong," says Esh.
Before it's here, it's on the Bloomberg Terminal.
LEARN MORE