Shares of True North Communications (TNO) have been racing upward, thanks to the boom in advertising brought about by the surging economy. The stock of the world's sixth-largest ad company leaped from 28 in early July to more than 42 on Jan. 5--hardly feeling the impact of the Dow's 360-point collapse that very day. Some pros think True North is still way underpriced and has yet to be recognized for its recent turnaround--under the leadership of new CEO David Bell--following a lackluster 1998. True North shares "present the best value in the advertising and marketing-services industry," says Bear Stearns analyst Alexia Quadrani, who notes that True North's stock is trading at 20 times her estimated 2000 earnings of $2.10 a share, compared with an industry average price-earnings ratio of 30. With the coming Presidential elections and the Sydney Olympics--on top of the surge in Web advertising--the True North story becomes even more compelling, she adds. Quadrani's target price for the stock is 60.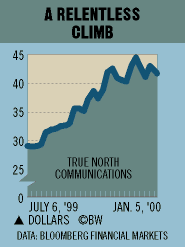 The Internet has driven up ad spending as new Web-based companies try to establish identities. Meanwhile, established advertisers are also spending more--to bolster their brands against new rivals. True North owns 50% of major interactive ad and e-commerce company Modem Media.Poppe Tyson.
Although acquisitions have played a big role in True North's growth--it doubled in size after acquiring ace ad agency Bozell, Jacobs, Kenyon & Eckhardt in late 1997--Chairman Bell (who was Bozell's CEO) says he will refocus on organic growth as part of his goal to achieve growth in earnings per share of 15% a year.
Morgan Stanley Dean Witter analyst Michael Russell rates the stock a "strong buy."
Before it's here, it's on the Bloomberg Terminal.
LEARN MORE