As Women Doff Their Black Scarves...Ties Are Making A Statement, Too
Patrick Smith
At the bar of my hotel in Tehran--or what used to be the bar in this resolutely dry republic--I sip tea with a 24-year-old career woman, an engineer named Jairan Jahani. Three or four times during a couple of hours' conversation, she adjusts her roosari, the head covering that has been mandatory gear for women since Iran's 1979 revolution. Inevitably, we set to wondering how many women would remove the roosari if the hijab, the Islamic dress code, were relaxed. "I would, but I'm in the minority," Jairan says. "My guess is that 9 women out of 10 still believe they should hide their hair."
Jairan's roosari consists of a colorful silk scarf worn well back on her head. Even a few years ago, this would have been a dangerously risque substitute for the traditional black cloth that covers all but the face. But today, as a reformist movement gains momentum, it reflects a certain unspoken accommodation. The authorities have eased off on women of modern tastes. And such women acknowledge that for most Iranian women, the hijab has been liberating.
The hijab's fortunes in this century are a map of Iranian political history. Reza Shah, who reigned during the prewar years, favored full-tilt modernization and banned Islamic dress. Under Reza Shah's son, Mohammed, who was deposed in 1979, the hijab was tolerated. But the educated middle class considered observing it a badge of backwardness. The revolution brought things full circle: What was once banned became compulsory. After '79, the hijab symbolized not just religious commitment but the triumph of Islamic populism over the Westernized elite.
"It's like a ring," says Mitra Behnam, my interpreter during a recent visit. "First you notice it, then not." Many women say the same. Their complaints are practical--"I wouldn't mind feeling the breeze," Behnam remarks--and political: By forcing the hijab upon women, the religious authorities have deprived them of individual choice, just as Reza Shah did. Oddly enough, the hijab has done much to advance the reformist cause. Once it was mandatory, thousands of tradition-bound families suddenly let their daughters out of the house to study and work. More than half of Iran's university students are now women, compared with fewer than a quarter under the Shah. "I support the hijab," says Shirin Ebadi, a prominent lawyer in the reform movement, "but only because it has allowed so many women to step into public roles."
Ebadi received me in her office in central Tehran. She wore a black dress that seemed a cross between a Western career woman's outfit and a judicial robe--with a nod toward the chador, the long black robe Islamic women are also required to wear. Her roosari hung on a nearby coat rack--ready for her next public sortie.
Let's not leave men out of this. At a recent gathering of opposition activists in south Tehran, I couldn't help noting how many of those present wore ties. "Yes, they call us `the necktie people,"' someone explained. The tie, it seems, has made the same journey through modern Iranian politics as the hijab.
After 1979, the tie disappeared. For years it was de rigueur in revolutionary circles to go sans cravate--if not without a collar, too. A tie identified you as a reactionary monarchist of the Shah's decadent era, something not necessarily conducive to one's good health at the height of Iran's revolutionary fervor. Now the wheel has turned. The tie reappeared a few years ago. Like the first loosely worn roosari, it began as a symbol of defiance against the creeping strictures of the clerical orthodoxy. With a reformist movement in full flower, the four-in-hand is now an unambiguous sign of political sympathy.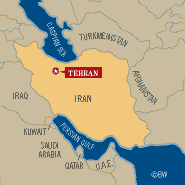 After the south Tehran rally, I repair to the home of Mohammad Ali Amooiee, a soft-spoken, seventyish leftist with nearly 40 years in prison behind him--first under the Shah, then more than a decade under the revolutionaries. Amooiee greets me in a blue-checked shirt with a well-matched silk tie. "If I want to wear a tie, I will. If I don't, I won't," he declares with evident delight. "It's a declaration of our right to choose. It's a protest against the state's long habit of intervening in our private lives." Let's just hope he never has to wear it in jail.
Before it's here, it's on the Bloomberg Terminal.
LEARN MORE