U.S.: Happy New Year, But For How Long?
Tight labor markets and growth abroad could force the Fed to get tough
By
The U.S. economy closes out the decade--indeed, the century--in spectacular shape. Growth is surging, inflation is low, jobs are plentiful, and new technologies promise to keep productivity growth strong. All in all, a remarkable fin de siecle.
November data on retail sales, industrial production, and consumer prices confirm that the economy continued to boom in the fourth quarter. The demand data indicate that real gross domestic product very likely grew at an annual rate of more than 4% at yearend. If so, 1999 will be the fourth year that annual growth was about 4%. You have to go back to the early 1960s to find a string of GDP gains that strong.
The challenge, of course, is sustaining this economic nirvana. Forecasters are optimistic about the economy's momentum heading into the Year 2000. In BUSINESS WEEK's annual survey of economists, real GDP is expected to grow 3.1%; consumer prices should rise 2.4%, with unemployment remaining at a three-decade low of 4.2%.
The key to holding all this together will be monetary policy and the financial markets. And that's where the outlook gets tricky. If spending by U.S. consumers and businesses does not come off the boil soon--especially at a time when overseas demand is accelerating--the Federal Reserve will resume its tightening regime early in the new year, as soon as Y2K-related worries about the financial system pass. Further rate hikes could put the stock and bond markets at risk.
At the end of 1999, though, consumers aren't thinking about the Fed or bond yields or price-earnings ratios. They're too busy shopping, as the strong gain in November retail sales suggests (chart). The spending spree is clearly not a problem for retailers at their most crucial time of the year, but it could be a problem for Fed policymakers if red-hot demand continues to drain the pool of available workers. That process could eventually push up wage growth at a pace that even good productivity growth cannot offset.
COOL IT DOWN. The fact is, to cool down consumer spending, financial market conditions may soon have to be more restrictive than they are at the end of 1999. Since the Fed began tightening on June 30, long-term interest rates are only a bit less accommodative. The yield on 30-year Treasury bonds is up to 6.3% from 6%, and the Standard & Poor's 500-stock index has rallied 2%.
Household demand has grown nearly 5% annually over the past two years, accounting for three-fourths of economic growth in 1998 and more than 90% in 1999. The fuel has been strong income growth from healthy job markets and surging wealth gains from the stock market. One or both of those supports will have to weaken in advance of any appreciable and lasting slowdown in consumer spending.
There is almost no sign of that. Equity prices aren't rising as rapidly as they did in 1998, and job growth is a bit slower, but those two fundamentals are still very supportive. Retail sales rose a solid 0.9% in November, pushed up by vigorous car sales, and weekly surveys show that buying in the first two weeks of December is very strong, suggesting a vibrant holiday season.
Although shoppers are buying in a frenzy, they remain price conscious. That's why inflation is a mere whisper at the end of the decade. The consumer price index for all goods and services edged up just 0.1% in November, and the core index, which excludes food and energy, rose only 0.2%. For the year, overall prices are likely to rise 2.6%. That's up from 1.6% in 1998, but the acceleration is almost all due to higher energy prices. The core rate is on track to rise 2.1%, down from a 2.4% increase in 1998 (chart).
In November, airline tickets, heating fuel, and telephone services posted large gains. Gasoline and tobacco prices, which have pushed up overall inflation in recent months, actually fell last month. The 1999 rise in gasoline has been eating into household budgets, however. Real weekly earnings in November were up just 0.9% from a year ago, well slower than the 2.1% gain in November, 1998--a key reason why pay gains in 1999 may look less appealing to workers in 2000.
The outlook for inflation in coming months remains sanguine, in part because of the growing popularity of Internet shopping. While there is little direct evidence of how the Net is exerting downward pressure on prices, a look at the various CPI categories suggests that it is. In mid-1997, the index covering recreational items and the core CPI were both growing about 2.5%. By November, 1999, inflation for recreational products had fallen to just 0.7%, while the core rate was little changed at 2.2%. And what's in the recreational category? Toys, music, books, and pet supplies--the same items increasingly identified with on-line shopping.
To be sure, some of those items, such as toys, are imports. The strong dollar has helped cut the prices of foreign-made goods, which is why apparel prices are still falling. But the downward pressures on recreational prices suggest that the Net is making it increasingly hard for retailers to have any pricing power.
TURNING POINT. The Fed, however, is on the lookout for the underlying pressures that could lead to inflation. Nowhere is that truer than in the labor markets, where the shortage of skilled workers could touch off a reacceleration in wage growth. That explains why the rebound in manufacturing since the spring is a mixed bag for policymakers. Factory layoffs had been a source of new workers for busy service providers.
But in 2000, manufacturers may also be beating the bushes for additional workers, as the global recovery boosts export orders. Industrial production picked up further in November, rising 0.3%, even as unusually warm weather held back November utility production. Factory output alone increased an even faster 0.5%.
A further speedup in output is likely, given skimpy business inventories relative to sales, especially in manufacturing (chart). Business sales grew 0.5% in October, more than twice the 0.2% increase in stock levels. In fact, there is little indication of any significant precautionary stock building related to Y2K concerns.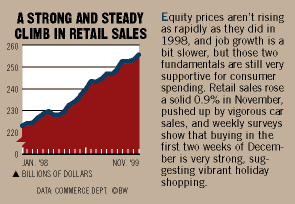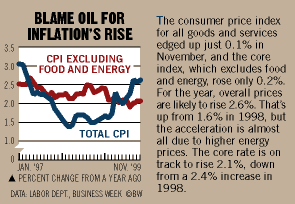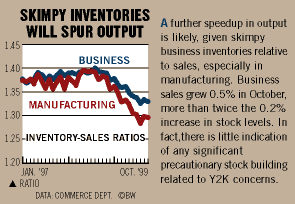 The pickup in output is only slowly using up capacity. The factory operating rate rose to 80.1% in November, but that's well below levels that would create supply bottlenecks and pricing pressure. Since spring, core producer prices for crude and intermediate goods are rising the fastest in four years, but that speedup has not been passed forward.
That's a good sign that the Fed is winning the fight to keep inflation under wraps. But 2000 could be a turning point, because the global restraining forces of the past two years are now disappearing. With domestic demand showing no signs of easing and labor markets sure to grow tighter, price pressures in the new year may give the Fed a tougher fight.