Earth Web Gets Down To B2 B
By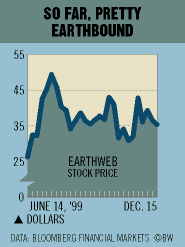 What's hot these days is B2B. That's Net shorthand for business-to-business service. So most Net companies are seeking niches in that zone. EarthWeb (EWBX) aims to be the dominant B2B provider of online services to information-technology (IT) companies, says CEO Jack Hidary, through its flagship services, such as ITKnowledge.com and dice.com. For its ITKnowledge, which provides internal IT staffs access to technical books and source codes, clients include AT&T, Cisco Systems, Intel, IBM, and Merrill Lynch. And for EarthWeb's dice.com, a national job site for IT professionals, Bank of America, Hewlett-Packard, Gap, and Walt Disney are among its subscribers.
Several Net giants are expected to sign up soon, including Yahoo!, Amazon.com, MCI WorldCom, Excite@Home, and the Nasdaq.
Analysts expect EarthWeb, which has yet to post profits, to show revenues of $30 million in 1999 and $51 million in 2000.
"EarthWeb's third-quarter results highlight the strength of B2B Internet business models," says Charles Wittman, an analyst at First Union Securities. B2B has brought traffic that EarthWeb has taken advantage of with ads and sponsorships, says Wittman, who rates the stock, now at 35 a share, a "strong buy."