These Days, Paradise Is Full Of Smog...But The Gamblers Roll In Even So
Amy Louise Kazmin
As they stroll through the souvenir shops in Kathmandu's temple-lined center, Japanese ophthalmologist Yoshihisa Makino and his companion keep cloth masks tied firmly across their mouths and noses. Such masks are commonly worn in Japan by cold sufferers to avoid spreading germs. But in Kathmandu, many tourists--and even a few Nepalese--wear them to keep from inhaling the grit in the air. "We must take care of our throats," Makino says. "We must be able to work after we get back."
For those in Nepal's tourist industry, the masks are a disturbing emblem of the battle they must wage to restore the charm of a place that was a mecca for hippie travelers in the 1960s and '70s. Back then, Kathmandu was a pristine city, untouched by modern life. Today, smoke-belching vehicles clog the narrow streets and a brown haze obscures the Himalayan views, because of a 170% surge in Nepal's vehicle count in the past nine years. Although the number of foreign visitors is growing steadily, at about 7% a year, many opt to pause just briefly in the capital of 1 million before pushing on to more remote corners. That has raised alarms among hoteliers and tour operators, who are now joining forces with environmentalists to combat pollution. "People come here for fresh mountain air, and that's what we'd like to give them," says Pradeep Raj Pandey, head of the Nepal Tourism Board. "We don't want them going back with red eyes."
The clean-air campaign has already notched up a big victory. After a series of protests over the past year, Nepal's government in September banned more than 700 highly polluting, diesel-powered, three-wheeled vehicles known as tempos. The tempos, which carried up to eight passengers on commuter routes, were identified as the city's dirtiest vehicles. "At least now there's enough lull in the pollution that you can see the other polluters," says energy specialist Bikash Pandey. However, hotel owner Bharat Basnet, who led demonstrations that blocked tempos on the roads, says plenty remains to be done. Next on his target list are smaller, three-wheeled auto rickshas. "My dream would be to stop most of the vehicles in Kathmandu," he says.
FILL THE GAP. But before acting against any other privately owned vehicles, Environment Minister Bhakta Balayar says the government will assess all of its own vehicles, which account for nearly one-third of the total in the city, and get rid of those that aren't up to antipollution standards. Last month, officials also banned the import of any new two-stroke engines, typically used in motor scooters. They're considering a ban on the import of second-hand cars more than five years old.
With diesel tempos gone, electric-powered replacements are helping to fill the gap. Eight battery-powered vehicles were introduced in Kathmandu in 1995 by the U.S. Agency for International Development. Today, the city boasts at least 250 privately owned electric tempos that shuttle commuters along popular routes for half a day before stopping in to a "charging station." Kathmandu companies assembling the tempos report a surge in orders since diesel models were banned, and the fleet may double within the year.
While the fight for clean air goes on, others see a different answer to Kathmandu's tourism dilemmas. At Casino Anna, a singer wearing loose-fitting Indian clothes belts out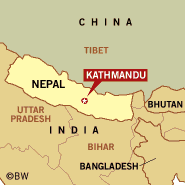 Hindi-film songs. Niraj Shah, 11, shoves coins into slot machines, while his parents play at roulette tables upstairs. The same 1990 democracy movement that led to liberalized car imports also ended the royal family's monopoly on legal gambling. Today, Kathmandu's four casinos draw nearly half a million foreign visitors a year. The highest rollers are from India, where gambling is illegal.
Although Indians account for one-third of Nepal's foreign tourists, the country's gambling mogul believes visitors--and revenues--would soar if there were more weekend flights from India. "You can get plenty of Indians," says R.D. Tuttle, whose private company, Nepal Recreation Centre, manages all four casinos. "We're the only casinos in the region, so the potential is great if people can get here easily." Tuttle lobbies the government airline routinely, with few results so far. But if he gets his way, Shangri-la may never be the same.