Radware: Directing Net Traffic
by
With the explosive growth of Internet activity, there has to be a traffic cop to direct and keep order. Enter Radware (RDWR), which develops Internet traffic management (ITM) systems to make sure Web traffic is efficiently distributed among a company's multiple servers. Expansion in this niche market drove up the shares of Radware, which went public on Sept. 30 at 18, to 80 on Nov. 3, before settling back to 52 3/8 on Dec. 8. The company has developed various products that manage and disperse Net user requests to groups of servers.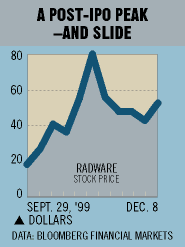 "Radware is a direct play on the increasing traffic demand on the global Internet and corporate intranets," says Martin Pyykkonen, an analyst at CIBC World Markets. There are competing products, he says, "but Radware's solutions offer the most comprehensive features and performance capabilities." Standouts among Radware's customer base of 360 corporations are Intel, Sony, Ericsson, GTE, Bell Atlantic, and Wal-Mart Stores.
Chuck Jones of Salomon Smith Barney estimates that, with 14% of the ITM market, Radware's share is second only to Cisco's 44%. Radware's is on the rise, he adds. "Radware has a compelling valuation," says Jones, based on its business outlook and the discount it's trading at, compared with peers F5 Networks and Alteon WebSystems. His target for Radware: 60.
Before it's here, it's on the Bloomberg Terminal.
LEARN MORE