Germany: Giving The Euro A Boost
by
Thanks to some decidedly upbeat economic data from Germany in recent days, worries about the euro zone's recovery are starting to fade, and the euro's sag--to below parity with the U.S. dollar--appears to be over.
Germany's economy, some 30% of the 11-nation single-currency area, grew 0.7%--an annual rate of 2.8%--from the second quarter, when it rose only 0.1%. The gain in gross domestic product, reported on Dec. 7, was the best in 1 1/2 years. Most important, all areas of domestic spending, as well as exports, showed solid growth. A revival in domestic demand is critical to a lasting recovery.
An October surge in manufacturing orders suggests that growth continues to accelerate in the fourth quarter. Orders showed additional signs of firmer domestic demand. Bookings have been strengthening all year, but mainly because of exports, fueled by the global recovery and the euro's 12% slide this year.
But now, domestic orders are picking up. Overall October bookings climbed 9.8% from a year ago, the strongest gain in nearly five years, and domestic orders were up 7.6%, the best showing since early 1998 (chart).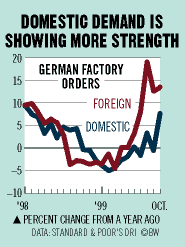 Of course, the key to a healthy domestic economy is stronger job markets, and even on that score, recent data show that Germany's recovery is starting to be felt. November unemployment fell by 29,000, more than three times what analysts had expected. The jobless rate, which had been stuck at 10.5% in the six previous months, edged down to 10.4%, the lowest in three years.
Most economists expect Germany's growth to speed up next year, from about 1.5% in 1999 to about 2.5%, and the latest data strongly support that forecast. As a result, the euro has rebounded more than 2% from its early-December low. Moreover, the improving economic news is sure to shore up support for Chancellor Gerhard Schroder, who was elected on his pledge to cut joblessness. With recovery now on track, that promise should look more fruitful in coming months.
Before it's here, it's on the Bloomberg Terminal.
LEARN MORE