Finland: A Handy Hop Away
No mountains, true. But it's ideal for skating and cross-country skiing and
William Echikson
Dazzled by the sunshine, I take a deep breath and slide forward on my cross-country skis. Whoosh! Suddenly, I'm flying. There's not a soul in sight as I glide across a frozen lake surrounded by dense pine forests. Welcome to Finland.
In winter, this remote northern country offers an escape from the crowds at resorts elsewhere in Europe. True, there aren't any mountains. But other pleasures--from cross-country skiing, skating, and dogsledding to the ubiquitous Finnish sauna-- more than compensate.
Before you book, a word of caution. Most travel agents will steer you to downhill ski resorts in Lapland, in Finland's far north. It's a mistake. Although there's alpine skiing, the hills are only a few hundred meters high, and the resorts around the town of Rovaniemi are charmless.
DOGSLED. A much better idea is to rent a car at Helsinki airport and head a few hours north to the lake-and-forest-filled center of the country. There you can rent a mokki, a lakeside cottage. Such places are invariably clean, comfortable, and cheap. The Finnish Tourist Board refers renters to Finnish Country Holidays, which has an English-language Web site listing hundreds of choices (table). Some landlords will rent skis, skates, and snowmobiles, or even arrange dogsled rides.
On our last visit, my family found a spotless three-bedroom lakeside cottage outside the village of Petajavesi, about a five-hour drive from Helsinki. It came with a modern kitchen, fireplace, and a wood-burning sauna--all for $350 a week. But while lodging is cheap and the skiing is free, be prepared for car-rental charges of at least $350 a week.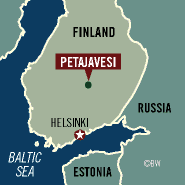 Every morning, we strapped on our skis and headed off, following well-marked trails through the forest. Sometimes we brought sausages and grilled them at fireplace rest stops along the route. Other times we stopped at small cafes for soup and sandwiches. We rarely saw other skiers. Returning to our cottage, we swept snow off the lake to create our own skating rink. We ended every day with the Finnish ritual of relaxing in our sauna. We never attempted the second part of the local ritual: cutting a hole in the frozen lake and jumping in.
A Finnish ski holiday is not for jet-setters. There's no nightlife, and restaurants are so scarce that you'll probably buy food at the supermarket and cook your own meals, as we did. But Finland is a genuine getaway, less than four hours by air from most European cities. And where else can you have the unforgettable experience of skiing alone on a shimmering lake?
Before it's here, it's on the Bloomberg Terminal.
LEARN MORE