A Last Minute Makeover At Comp Usa
They missed the cheap-PC wave. How about digital cameras?
Stephanie Anderson Forest
Garry Graham is just the sort of customer who once packed the aisles at CompUSA stores: computer-savvy and ready to pay more for the latest souped-up machines. The retired teacher from Garland, Tex., forked over $1,800 for a Hewlett-Packard PC a couple years ago, and $650 for a monitor. Now, he's back looking for a $200 printer. But you won't find him at CompUSA. After shopping around, he found more selection and lower prices at Best Buy, the big discounter. Says Graham: "If I rate the places I shop for computer hardware and software, CompUSA falls way down the list."
How the mighty have fallen. Once upon a time, CompUSA Inc. was PC royalty--one of a handful of companies like Compaq, Microsoft, and Intel, that shaped the home-computer industry in the 1990s. Until CompUSA came along, no one offered everything under one big roof: PCs to printers, memory cards to screen savers.
CLOUDY FUTURE. But today, the computer superstore chain is gasping for air and struggling to reinvent itself for the second time in six years. In recent months, Dallas-based CompUSA has shuttered underperforming stores. It has scaled back a strategy to sell directly to big corporations. Meanwhile, the company is investing heavily in a separate online operation, cozone.com. Just as important, it's in the midst of a corporate makeover, filling shelves with digital cameras and other goods in a bid to become a high-end consumer-electronics store and not just a personal-computer specialist. Yet for all the activity, CompUSA's future remains cloudy. "I'm not completely convinced they're going to be able to pull it off," says Scot Cicarrelli, an analyst with investment banker Gerard Klauer Mattison in New York.
Certainly investors have reasons to worry. For the fiscal year ended last June, CompUSA lost $53 million on sales of $6.2 billion. In the current fiscal year, it's expected to lose an additional $22 million on 7% lower sales, says Rebecca Yarchover, an analyst at U.S. Bancorp Piper Jaffray Inc. The poor showing sent CompUSA's stock plunging to 6 1/4, from a high of almost 38 two years ago. The pressure is on, admits Giles H. Bateman, CompUSA's chairman and a large holder of its shares: "It's clear this turnaround has to work. If it doesn't, the management has to be changed."
CompUSA CEO James F. Halpin insists the turnaround has already begun. "You're going to see us evolve from a computer superstore to a technology superstore," he says. In 1993, Halpin and his team rescued CompUSA from a financial abyss stemming from overexpansion. But then they completely missed the biggest shift in PC retailing. While he was focused on taking out another big PC retailer--paying $175 million for Tandy Corp.'s Computer City chain in August, 1998--Halpin ignored the rise of the sub-$1,000 PCs. Believing the precipitous drop in PC prices would abate, CompUSA continued to focus the bulk of its product mix on high-end, feature-laden computers. Bad guess. While Circuit City Stores Inc., Best Buy Co. Inc., and other consumer-electronics discounters ate up the low end of the market, Internet direct sellers Dell Computer Corp. and Gateway Inc. showed savvier PC buyers they could pay less, too. "Shoppers are just feeling a lot more comfortable buying from consumer-electronics companies than they used to," says an exec at one of CompUSA's major PC suppliers.
The cheap-PC trend even spread to corporate buyers, one reason Halpin's plan to develop a direct-sales business has faltered. He recently dropped three top corporate accounts because they were losing money. According to market researcher PC Data in Reston, Va., the average selling price of a PC is now around $800, vs. $1,500 in 1997. One computer industry exec says CompUSA, which now carries some sub-$1,000 machines, wants to plunge deeper into that segment. CompUSA is reportedly talking with eMachines Inc. about adding its PCs, which are priced as low as $399. Neither company would comment.
But Halpin vows he won't turn CompUSA into a discounter. He's pinning his turnaround hopes on expanding into higher-margin, high-end consumer electronics such as handheld computers, cellular phones, digital cameras, and smart toys. "I make more money selling a digital camera than I do a PC," says Halpin. He isn't divulging any details but insists that when the prototype stores roll out next year, they will emphasize service and be much more than typical consumer-electronics outlets: "You're not going to see us carrying TV sets, refrigerators, or vacuum cleaners. It's going to be something that techno-enthusiasts would like."
NET EFFORT. Retail experts aren't sure CompUSA is heading in the right direction. Many believe the market for new-fangled tech devices is still far smaller than the PC business. And the average Circuit City or Best Buy store dwarfs CompUSA's 217 units, which average 26,000 square feet. That lets them stock far more goods. Trying to slug it out with those giants "is absurd," says PC retail consultant Seymour Merrin of Merrin Information Services Inc. "If you don't have enough selection to offer, no one's going to come."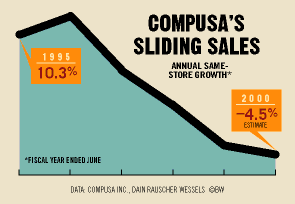 Store size means nothing on the Internet, of course. Here, too, Halpin wants to get away from CompUSA's help-yourself image. Through its witty ads featuring Donald Trump, Dr. Joyce Brothers, and basketball player David Robinson, cozone.com hopes to establish a reputation for service, offering extensive buying advice and product tutorials. The Web site leverages CompUSA's vendor discounts, but doesn't mention its parent. Halpin figures that freedom should make cozone.com more attractive when he tries to spin off a portion. But that also means cozone.com is starting out as an unknown name in a very crowded field, says Ken Cassar, an analyst at Jupiter Communications Inc. "Consumers tell us that the main reason they choose one site over another is because they recognize a brand," he says. "No one recognizes cozone."
Even if the online gambit pays off big, Halpin won't bail anytime soon on his $6 billion of brick-and-mortar sales. Here, there's a little good news: Analyst Yarchover figures that after stripping out startup costs for cozone.com and nonrecurring charges, the core business is inching into the black. But for investors, that's small consolation for CompUSA's fall from grace.
Before it's here, it's on the Bloomberg Terminal.
LEARN MORE