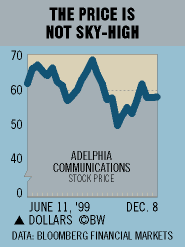 The buzz is that some big Web portals are out to acquire cable TV operators. The pickings, however, are mighty slim, since many systems have been bought out by the likes of AT&T and investor Paul Allen. One of the few left is Adelphia Communications (ADLAC), the No. 3 pure play in cable and No. 6 overall--with 5 million subscribers. It has completed a string of acquisitions and developed new digital services, including high-speed Internet access. With Adelphia's "superb management" and undervalued assets, the company is attractive, says James Boyle of First Union Securities, who rates it a strong buy. Trading at 57, Adelphia has a private market value of $91 a share, figures Boyle. Goldman Sachs's Barry Kaplan says the stock is "the least expensive stock in our group," trading at 12 times 2000 estimated cash flow vs. 16 for its peers. Adelphia owns 57.1% of Adelphia Business Solutions, which provides services over its fiber-optic network. It went public last year at 16 and is now 35, with a market cap of $2.5 billion. That translates into an equity value of $1.5 billion, or 10 a share, to Adelphia, says Frank Murphy, who tracks Adelphia Business at First Union. One reason Adelphia hasn't already been bought is the 75% control held by CEO John Rigas and his three sons. Such a grasp could discourage buyers.
Boyle rejects as a "long shot" the Street speculation that America Online is eyeing Adelphia. What may happen, he says, is AOL could strike a strategic alliance, giving AOL access to Adelphia's "fat pipe," which provides digital video, high-speed data, and telephone service. Adelphia, he says, would tap AOL's huge crowd of subscribers. Adelphia, whose systems are in California, the Northeast, and Florida, should post cash flow this year of $8.74 a share and $10.09 in 2000.
Before it's here, it's on the Bloomberg Terminal.
LEARN MORE