A Cozy Niche In Audio Conferences
by
Yes, Gentner Communications (GTNR) looks like another of those Internet wonders, with its stock soaring from 4 in June to 13 on Dec. 8. But Gentner isn't really an Internet play--yet. It is in the ignored field of audio teleconferencing, which Gentner has turned into a growth business for itself. Revenues have grown from $11.1 million in fiscal 1995 to $23 million in 1999. And it went from a net loss of $116,000 in 1995 to earnings of more than $2.5 million, or 30 cents a share, in the year ended June 30, 1999. Jeff Tryka of the Red Chip Review, which focuses on small-cap growth stocks, expects Gentner to earn 57 cents a share on sales of $39 million in 2001, up from an estimated 41 cents a share in 2000 on sales of $30 million. Gentner, which went public in 1991, had been posting losses until 1998, after Frances Flood took over as CEO.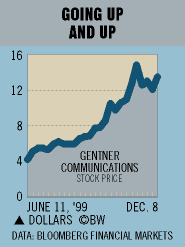 "It has a solid niche in audio teleconferencing products," says Tryka, which account for more than half of Gentner's sales. He has been pushing up his target--to 18--as it kept meeting expectations way ahead of schedule. But in a year, he sees it going into the 20s. Gentner keeps on developing new products: Right now it is going after corporate clients with its suite of audio, video, and data-conferencing products and services. And guess what? It is starting to move into--where else--the Internet, with Web-based services to its conferencing customers. Flood says its new system enables customers to transmit data over the Internet, so that users at each location may view spreadsheets, documents, and images in real time.
Before it's here, it's on the Bloomberg Terminal.
LEARN MORE