Where The Teddy Bear Is Still Top Dog
Linda Himelstein
My first thought upon walking into San Francisco's Basic Brown Bear Factory was that I must have made a wrong turn. Here I was, in a drab neighborhood known as Potrero Hill whose predominant color was concrete gray, and yet I had somehow stumbled into little Disneyland. All around me were brightly colored walls lined with shelves upon shelves of every kind of teddy bear imaginable. There were tour guides racing from teddy bear-stuffing machines to sewing machines. And, of course, children of all ages were everywhere--scores of them.
Indeed, this 23-year-old factory could easily have been a playful fixture on Disneyland's Main Street. Instead, Basic Brown Bear is an innovative and fun tribute to one of the most popular toys of all time. Ever since Rose and Morris Michtom created the first teddy bear in 1903, this stuffed animal has been a favorite. According to the Toy Manufacturers Assn., the plush-toy market is close to $1 billion; teddy bears make up roughly 70% of that. Fads for such items as Beanie Babies may outshine this cuddly creature for a time. But it's the teddy bear that has endured as a must-have for kids and adults alike.
No wonder that you can find a Teddy Bear Museum (in Florida), countless trade shows around the world aimed at the 2 million or so antique teddy-bear collectors, numerous newsletters, magazines, and books devoted to the topic, and even an annual teddy bear convention. "It's just something that people love," says Gene Gilligan, editor of the bimonthly Teddy Bear Review.
And like to touch. That, perhaps more than anything, may be why more than 65,000 visitors flock to the Brown Bear Factory each year--despite the company's never spending a dime on advertising. The idea behind the brainchild of Merrilee Woods, 51, and her husband, Eric, 54, is to give visitors a hands-on experience. For free, visitors are treated to a 30-minute tour that takes them through the history of this furry creature and then lets them help make one. "People come here for the whole experience," explains Eric, an architect by training who now manages the back office of the business while Merrilee, an artist, designs the bears and their clothing. It's that experience that attracted Chelsea Clinton several years ago. She made her own koala bear at the factory, and it now sits in the White House.
NET COVERAGE. The factory is only part of the business. The Woods now run three retail stores--in the Mall of America in Minnesota, in San Diego's Old Town, and at Fisherman's Wharf in San Francisco. They've got the Net covered, too. Their Web site, www.basicbrownbear.com, includes facts and figures on teddy bears as well as a link that allows users to make a purchase. Merrilee says that only about $250 worth of bears are sold online each month. Total revenues for the company, which has about 55 employees, are up from $300,000 in 1994, to about $3 million today.
I decided this place had to be worth a visit. On the day I came, bringing my 21-month-old son, the Brown Bear Factory was already trimmed with holiday trappings. Christmas trees, stuffed reindeer, and Santa Claus bears greeted us at the door. We followed a pack of schoolchildren and a path made of bear-claw prints to the tour's first stop: an explanation of how Theodore Roosevelt inspired the creation of the teddy bear.
There are various legends about how that came about. One has it that during a hunting trip, Roosevelt thought it was unsportsmanlike to shoot a 235-pound black bear that aides had tied to a tree. A comic strip depicting the episode showed Roosevelt with a cuddly little cub. The Michtoms, Brooklyn candy-store owners, were so moved that they wrote to the President asking if they could make a toy animal and call it "Teddy's Bear." That bear, given to Roosevelt's grandson, is now housed at the Smithsonian Institution in Washington.
After hearing this history, we are escorted into the sewing room. Piles of different-colored furry fabrics are stacked on a giant table, one on top of another. A cutter traces several different bear patterns with a saw-like tool to come up with what will be the bearskin. The factory offers nearly 40 varieties and sizes of bears, ranging from baby cubs to polar bears to bears as big as six feet tall. But the standard teddy bear is the hands-down favorite.
From there, some 20 seamstresses working on what look like antique sewing machines add the eyes, noses, and mouths. They also stitch up the animals, leaving a hole just wide enough for the next task: putting in the stuffing. Here's where the hands-on adventure begins. Every visitor has the option of picking out a bear to complete, which basically means overseeing the stuffing, final stitching, and ribboning of the bear. Prices range from just $12 for a baby bear up to $999 for the biggest bear. My son, Benjamin, wants the $21 version of the basic brown bear. His will be just one of the 150,000 bears that are made by visitors like us every year.
This part of the tour is no picnic. The loud noise from the stuffing machine scares Benjamin. The machine is actually a World War II relic that used to stuff life jackets. Eric rejiggered it so that it now fluffs up mounds of polyester, which is blown into the bear through a hose. When the stuffing is in place, a seamstress sews the bear shut. Next, Teddy goes to the grooming cart or "bear bath," where a rotating wire brush fluffs up his fur. Then he is placed on massage rollers, and a blast of air from a vacuum-like device blows away excess fuzz.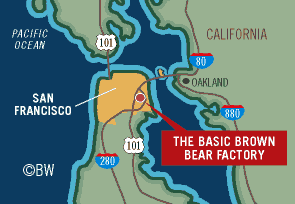 Now come the final touches--buyers choose ribbons for the bear and one of 60 outfits that Merrilee has designed. In addition to dressing the bears as cowboys, Vikings, or brides and grooms, visitors can pick clothes that are more fashionable, made of fabrics "you might find at Macy's or Nordstrom," says Eric. A simple outfit can run as high as $20. Turns out that the most popular garb is a tutu with ballet slippers. Outfits also vary with the seasons--hearts, for instance, for Valentine's Day, which probably is the most popular teddy-bear season for men. "Men are clawing at the windows to get in," says Eric. "They know they're dead if they don't go home with something." When the time comes for us to pick the costume, Benjamin is fussy, so our teddy goes home undressed.
The bear also goes unnamed, since Benjamin can't talk yet. I can't even tell if he's fond of it, but I am. In fact, I'm looking forward to Valentine's Day.
Before it's here, it's on the Bloomberg Terminal.
LEARN MORE