Welch's March To The South
As GE pressures suppliers to shift to Mexico, unions dig in
Aaron Bernstein
One of General Electric Co. CEO John F. Welch's favorite phrases is "squeeze the lemon," or wring out costs to maintain the company's stellar profits. In the past year, the lemon-squeezing at GE has been as never before. In a new, superaggressive round of cost-cutting, the company is now demanding deep price cuts from its suppliers. To help them meet the stiff goals, several of GE's business units--including aircraft engines, power systems, and industrial systems--have been prodding suppliers to move to low-cost Mexico, where the industrial giant already employs 30,000 people. GE even puts on "supplier migration" conferences to help them make the leap.
GE's hard-nosed new push could spark other companies to emulate its tactics. The supplier crackdown is reminiscent of a similar attempt by former General Motors Corp. parts czar Jose Ignacio Lopez de Arriortua. His efforts largely failed in the face of stiff supplier resistance. But if GE succeeds, other companies could be inclined to try again. GE officials at headquarters in Fairfield, Conn., say the business units are simply carrying out Welch's larger campaign to globalize all aspects of the company. Says Rick Kennedy, a spokesman at GE Aircraft Engines (GEAE): "We're aggressively asking for double-digit price reductions from our suppliers. We have to do this if we're going to be part of GE."
GE's efforts to get suppliers to move abroad come just as World Trade Organization ministers start gathering in Seattle on Nov. 30. That timing could help make the GE moves an issue at the talks, where critics will be pointing to just such strategies--and the resulting loss of U.S. jobs to low-wage countries--as the inevitable fruit of unregulated trade. GE's 14 unions hope to make an example in Seattle of the company's supplier policy, arguing that it's paving the way for a new wave of job shifts. They plan to send dozens of members to march with a float attacking Welch.
PALTRY WAR CHEST. The campaign by GE's unions, which bargain jointly through the Coordinated Bargaining Committee (CBC), is also the opening salvo of bargaining talks over new labor contracts to replace those expiring next June. Because GE's unions are weak--fully half of their 47,000 members at the company belong to the nearly bankrupt International Union of Electronic workers (IUE)--they'll have a hard time mounting a credible strike threat. Instead, the CBC is planning a public campaign to tar Welch's image. They plan to focus on likely job losses at GE suppliers. The unions also suspect that GE may move even more unionized GE jobs to Mexico and other countries once it has viable supplier bases in place. "ge hasn't moved our jobs to Mexico yet because our skilled jobs are higher up the food chain," says Jeff Crosby, president of IUE Local 201 at GE's Lynn (Mass.) jet-engine plant. "But once they have suppliers there, GE can set up shop, too." His members from parts supplier Ametek Inc. picketed the plant on Nov. 19 to protest GE's pressure on Ametek to move to Monterrey, Mexico.
Although it has never openly criticized Welch before, the AFL-CIO is jumping into the fray this time. Federation officials have decided that Welch's widely admired status in Corporate America has lent legitimacy to a model of business success that they insist is built on job and wage cuts. "Welch is keeping his profit margins high by redistributing value from workers to shareholders, which isn't what U.S. companies should be doing," charges Ron Blackwell, the AFL-CIO's director of corporate affairs. Last year, the AFL-CIO proposed a bold plan to spend some $25 million on a massive new-member recruitment drive at GE, but the IUE wasn't willing to take the risk. So the federation is backing the new, less ambitious campaign that focuses on traditional tactics like rallies and protests.
STRONG TIDE. GE's U.S. workforce has been shrinking for more than a decade as Welch has cut costs by shifting production and investment to lower-wage countries. Since 1986, the domestic workforce has plunged by nearly 50%, to 163,000, while foreign employment has nearly doubled, to 130,000 (chart, page 74). Some of this came from businesses GE sold, but also from rapid expansion in Mexico, India, and other Asian countries. Meanwhile, GE's union workforce has shriveled by almost two-thirds since the early 1980s, as work was relocated to cheaper, nonunion plants in the U.S. and abroad.
Welch's supplier squeeze may accelerate the trend. In his annual pep talk to GE's top managers in Boca Raton, Fla., last January, he again stressed the need to globalize production to remain cost-competitive, as he had done in prior years. But this time, he also insisted that GE prod suppliers to follow suit. Several business units moved quickly to do so, with GEAE among the most aggressive. This year, GEAE has held what it calls "supplier migration" conferences in Cincinnati, near the unit's Evendale (Ohio) headquarters, and in Monterrey, where an aerospace industrial park is going up.
At the meetings, GEAE officials told dozens of suppliers that it wants to cut costs up to 14%, according to documents about the Monterrey meeting at Paoli (Pa.)-based Ametek, whose aerospace unit makes aircraft instruments. The internal report, a copy of which BUSINESS WEEK obtained, says: "ge set the tone early and succinctly: `Migrate or be out of business; not a matter of if, just when. This is not a seminar just to provide information. We expect you to move and move quickly."' Says William Burke, Ametek's vice-president for investor relations: "ge has made clear its desire that its suppliers move to Mexico, and we are evaluating that option. We have a long relationship with GE, and we want to preserve it."
GEAE officials argue that heightened competition leaves them no choice. Jet engines sell for less than they did four years ago, says Kennedy, the unit's spokesman. Almost all GEAE's profits have come from contracts to maintain engines already sold. And that business is getting tougher, with rivals such as United Technologies Corp.'s Pratt & Whitney laying off thousands of workers to slash costs. "This company is going to make its net income targets, and to do it, we will have to take difficult measures," says Kennedy.
Still, even some suppliers don't see the Mexico push as justified. They point out that GEAE's operating profit has soared by 80% since 1994, to $1.7 billion on sales of $10.3 billion. GE, they argue, is leading the cost cuts. "It's hard to give away 5% or 10% to a company making so much money when most of the suppliers are marginally profitable," says Barry Bucher, the CEO and founder of Aerospace International Materials, a $30 million distributor of specialty metals in Cincinnati. Nonetheless, Bucher says he's looking into a joint venture in Mexico in response to the demands from GE, his top customer.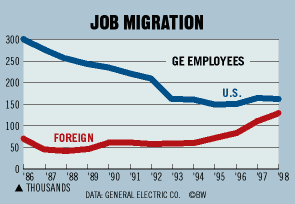 The unions, for their part, worry that GEAE will follow in the footsteps of GE's appliance unit. To remain competitive in that low-skilled, low-margin industry, GE Appliances has slashed its workforce nearly in half at its Appliance Park facility in Louisville, to some 7,500 today. Much of the work has been relocated to a joint venture in Mexico. Union leaders have tried to stave off further job shifts by offering concessions. In early November, the company agreed to a $200 million investment in Louisville in exchange for productivity improvements and lump-sum payments instead of wage hikes for its members. "We hope GE will see this as a solution they can adopt in jet engines and elsewhere," says IUE President Edward L. Fire.
Labor's new campaign may embarrass Welch and even prompt GE to tone down its demands on suppliers. But it won't rebuild the union's clout at the bargaining table the way a serious organizing drive might have done. Until that happens, Welch probably has little to fear from his restive unions.
Before it's here, it's on the Bloomberg Terminal.
LEARN MORE