U.S.: At Last, Some Relief From The Gaping Trade Gap
But the rebound overseas could trigger more Fed rate hikes
by
Thanks to the better alignment between growth in the U.S. and in the rest of the world, the foreign trade deficit may be flattening out or even narrowing as we head into 2000. That trend would be in sharp contrast to the gap's doubling in just over a year.
Clearly, an improvement in trade is a plus for the outlook. After all, consider the disruptions caused by the deteriorating trade picture: Falling exports, caused by recessions around the world, hit manufacturing hard in 1998 and contributed to the massive layoffs in the factory sector. The severe erosion in net exports over the past four quarters robbed about one percentage point from growth in gross domestic product.
However, a flatter trade gap may not be an entirely good thing, since it would come at a time when inflation is the primary focus of policymakers. Keep in mind that U.S. price performance has benefited greatly from the disconnect between domestic demand and foreign growth. In particular, the global slowdown strengthened the dollar, leading to a sharp deflation in imported goods, which helped to offset domestic price rises. And the influx of imported supplies amid a weakened factory sector prevented shortages and production bottlenecks that typically trigger price increases by domestic producers.
Moreover, trade's subtraction from GDP growth may have helped stay the hand of the Federal Reserve. Consider where cost pressures--and the federal funds rate--might be if real GDP had grown more than 5% over the past year, instead of 4.1%. Going forward, if foreign demand boosts growth, with little slowing in domestic spending, the U.S. economy will likely push even harder against its resource limits. And the Fed would not ignore those constraints.
The first hint that trade may be flattening came from the recent data on the monthly trade deficit (chart). The gap widened a bit in September, to $24.4 billion, up from a revised $23.5 billion in August, and trade is on track to hit a record for the entire year. But in the past three months, the gap seems to have plateaued, and it could shrink in 2000.
One reason is that foreign demand will start to show more strength. In September, exports were dragged down by a falloff in aircraft shipments. But the September drop followed three consecutive gains; so for the third quarter, exports were up 6.1% from a year earlier. That's the fastest yearly pace since the end of 1997.
The export speedup has been especially rapid for U.S. shipments to Pacific Rim countries and to both Canada and Mexico--areas that account for more than 60% of U.S. exports. This time last year, shipments to all Pac Rim countries were down 17% from the previous year. Now the growth rate from a year ago is nearly 12% (table). What's more, exports to all of Western Europe have yet to pick up. With Europe's recovery gaining steam, foreign demand from across the Atlantic will be an added source of export gains next year.
The upbeat outlook for exports stems from improving prospects for world growth. The Organization for Economic Cooperation & Development revised upward its forecasts for global growth in 1999 and 2000. The OECD now believes the world economy will grow 3% this year, up from 2.4% predicted in May. And the pace will accelerate to 3.5% in 2000. Most economists echo the OECD's projections.
What's crucial to the outlook for U.S. trade is that the OECD expects the pickup in growth to come from outside the U.S. The euro zone is expanding 2.1% this year and will rise by 2.8% in 2000. Britain's GDP will increase 1.7% in 1999 and 2.7% in 2000. And the smaller members of the OECD are set to expand 3.4% this year and then 3.8%. Faster growth around the world will increase demand for U.S. goods.
It didn't look that way in October, as durable goods orders fell 1.3% after a 1.9% drop in September. However, the October decline reflected an unusual 15.3% plunge in demand for electronic equipment, possibly related to a postponement of bookings for high-tech gear prior to the century date change. The overall order trend remains strong.
At the same time, the OECD expects the U.S. economy to slow to a 3.1% pace next year from its current 3.8% clip. That means that domestic demand for imports should start to ease up.
Of course, given the strong pace of domestic spending so far in 1999, the slowdown isn't happening yet. Imports have risen in every month of 1999. In September, they edged up 0.1%, to a record $106.1 billion.
Imports account for a third of U.S. nonoil goods spending. And in the past seven years, the percentage of those goods coming from China has doubled, from 6% to 12%, and that share shows every sign of rising further. Although China's likely entry into the World Trade Organization will help to open its markets to U.S. producers, those benefits are a long way off. For now, America's trade deficit with China is on track to surpass the U.S. gap with Japan, perhaps by next year.
Imports may well remain strong in coming months as U.S. companies lay in some precautionary inventories in advance of any possible Y2K supply disruptions. Inventories in wholesalers' warehouses, where imports tend to show up, have picked up sharply in the past three months.
Part of the import appeal has been bargain prices. From 1996 to mid-1999, nonoil import prices were in a steady decline. Now, though, import deflation appears to have ended (chart). Foreign-goods prices excluding oil have edged up 0.1% in each of the three months ended in October. Indeed, prices of goods from emerging Asian nations have stopped falling after a 31/2-year decline, and prices of imported autos are actually rising at a 1.3% yearly clip, the fastest pace since 1996.
Certainly, the gains remain small, and import inflation is not about to shoot higher. But falling import prices have been a key factor holding down U.S. goods prices.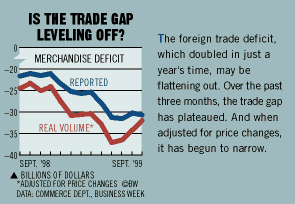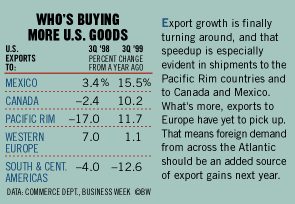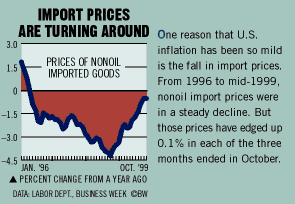 Moreover, add in the price spike in imported oil, and the inflation picture gets even cloudier. A combination of global economic recovery and OPEC production cuts, along with Iraq's recent refusal to extend a U.N. export agreement, sent crude oil prices soaring to $27 per barrel on Nov. 22, a level not seen since the Persian Gulf war. Prices are up $5 per barrel since the end of October. If that increase holds, economists estimate that it would add 0.3 percentage point to the monthly increase in the consumer price index in coming months.
Ultimately, any broad inflationary impact from an improving trade outlook will depend upon how much domestic demand slows next year. And as long as signs of any slowdown remain more wishful thinking than fact, the pressure on prices--and the Fed--will only grow.
Before it's here, it's on the Bloomberg Terminal.
LEARN MORE