Netcentives For Frequent Shoppers
by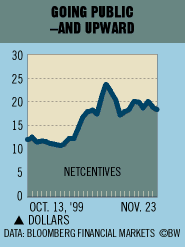 Now there are rewards for buying online. With the holidays just around the corner, the concept has enticed not only shoppers but also investors. That is producing some excitement over Netcentives (NCNT), which has formed networks such as ClickRewards Shopping Network and Custom Loyalty Networks to enable e-commerce sites, merchants, and companies to reward costumers and employees with "ClickMiles," which can be used for purchases or specific gifts. Netcentives has exclusive pacts with major airlines that link them with ClickMiles as rewards. Some 85 merchants participate in ClickRewards, and membership has grown to 2.5 million. Among companies that have picked Netcentives to design and run their employee-partner reward programs are Cisco Systems and Novell. Netcentives also has designed a program for Citibank to enable its customers to use their Citicards for online shopping.
Taken public by CS First Boston on Oct. 13 at 12 a share, Netcentives had leaped to 18 3/16 by Nov. 23. Analyst James Pettit of Hambrecht & Quist, who rates the stock a buy, says the company is experiencing "strong market traction, and the current pipeline of merchants and member growth ahead of this year's online Christmas season appears very healthy."
American Express, Citigroup, and Starwood Hotels & Resorts have all acquired equity stakes of less than 5% in Netcentives.
Before it's here, it's on the Bloomberg Terminal.
LEARN MORE