Korea: A Supersonic Recovery
by
South Korea's recovery is streaking past all expectations, unfazed by the crisis at Daewoo Corp., the nation's second-largest corporation, which is some $70 billion in debt and on the verge of collapse. In fact, the larger worry now is inflation, not financial-market instability.
The Bank of Korea (BOK) reported on Nov. 22 that real gross domestic product grew 12.3% from a year ago, putting the economy on track to grow 9.5% this year, the fastest pace in a decade. And on Nov. 23, the Labor Ministry said that the unemployment rate fell to 4.6%, a 21-month low, down from a record 8.6% hit in February.
As a result, consumer spending is on the rebound, especially amid historically low interest rates. A global recovery, plus the competitive advantage of the Korean won vs. the stronger Japanese yen, is powering exports. Construction is still weak, but overall capital spending by businesses, which soared 48% last quarter from a year ago, has bottomed out.
The BOK warned twice in November that the economy could overheat next year. Overall inflation has climbed for four months in a row, and not just because of costlier energy. Most analysts expect 3% inflation in 2000, up from 1% in 1999, but the risks are on the upside, especially if inventory growth picks up, which could add sharply to industrial output. Last year, the government urged businesses to run down their stock levels to improve their finances.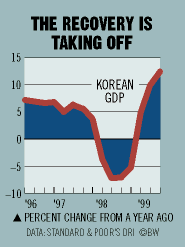 For now, the BOK will keep interest rates low to support a fragile financial sector. But with the government's Nov. 4 financial-market stabilization package in place, and with the economy booming, rate hikes could come early next year. Standard & Poor's Corp. lifted its credit rating for South Korea to its pre-Asian-crisis level in 1997 and gave the country Asia's only "positive outlook," which could lead to another upgrade.
One risk is that a strong economy could lessen the sense of urgency for needed structural reforms, although the Daewoo debacle may actually help to keep the focus on reform efforts.
Before it's here, it's on the Bloomberg Terminal.
LEARN MORE