Floored By Rent Hikes
Space is tight, pushing up costs for small companies
Alison Stein Welner
Growth is good, right? These days, it could be a mixed blessing if it means you outgrow your office. Just ask Stephen Kingsley, the president of Kingsley & Associates, a 20-person real estate research firm in San Francisco that has been in its 3,000-square-foot quarters for 14 years. When Kingsley realized he needed more space, it wasn't sentiment that held him back. It was the rapid escalation in the city's so-called Class B office rents, up 9.49% this year.
It's not just San Francisco that's feeling the pinch. In business districts across the country, rents are on the rise in many of the buildings where small businesses lease space (chart). Why? Last year, rents for prime Class A buildings--well-located, professionally managed, and modern--showed a stiff 13% increase, propelled by a strong economy and low vacancy rates, says Janice Stanton, managing director of investment research at Cushman & Wakefield Inc. in New York. This pent-up demand is now spilling over into the more moderately priced Class B category.
In particular, rents are climbing in the buildings of choice for startup companies: older structures that can be readily renovated to accommodate today's technology and floor-plan requirements, according to David P. Evemy, vice-president at CoStar Analytics, real estate researchers based in Bethesda, Md.
So what's a growing business to do? Well, you could head for the suburbs, where increases in vacancy rates (11.7%, up from 10.9% last year) have resulted in stable rents or even slight declines, says Cushman & Wakefield.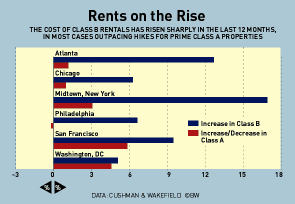 Some die-hard downtowners try space-saving strategies. For example, Kingsley hired space-planning consultants and is storing its files off-site. Some companies opt for "hoteling," an arrangement whereby different employees use the same offices at staggered times, says Harold Dubrowsky, partner and director of the real estate and hospitality practice at Grant Thornton's Southfield (Mich.) office.
Still, efficiency goes only so far. At some point, you just might have to move. And a dearth of new Class B construction in big cities means that vacancy rates--and prices--won't ease up soon, warns Stanton. So, if nothing but downtown will do, take a deep breath and repeat: location, location, location.
Learn about rent trends in other regions. Click Online Extras at frontier.businessweek.com
Before it's here, it's on the Bloomberg Terminal.
LEARN MORE