Eco Merchants Head For The Mall...But Some Say It's The Wrong Move
Katharine A. Schmidt
With her blonde hair newly done up in soft curls, wearing pumps and a skirt-suit, Marlene Kreutz has driven 2 1/2 hours to check out Europe's first "eco-mall." With her architect husband in tow, she visits the department store from which she had ordered linens by catalog, then the restaurant with its organic vegetarian ravioli, then the gift shop where water burbles over a stone fountain. The 44-year-old mother of two likes what she finds among the 21 businesses. "It's so peaceful here--every other shopping center is so hectic," Kreutz says. She and Hubert aren't put off by the high prices: $105 and more for shoes; $36 for a woolen baby jumpsuit. Says Hubert, in a sports jacket and oxfords: "The prices match the quality, and the service is really good."
Most of the customers at Rommelmuhle shopping center, a former grain mill on the narrow Enz River, look more like the Kreutzes than the old stereotype of the German eco-shopper--a muesli-eater wearing overalls. That's fine with shop owners here in Bietigheim-Bissingen and throughout the country, who are betting that banding together under an eco-umbrella will boost the already promising sales growth of green products. The question is, will the malls bring in lots more mainstream consumers like the Kreutzes?
Across Germany, plans are under way for 30 eco-shopping centers in such cities as Cologne, Frankfurt, and Berlin, offering everything from brown rice to environmentally friendly roofing material. The idea is to attract more customers who have enough money to pay the premium for eco-products--up to 25% for a couch made without synthetic material or woods from rain forests, for instance. While German retail sales in general have stagnated in the 1990s, eco-products have turned in a stellar showing: Health-food sales rose 9% last year, and in natural cosmetics, growth rates have averaged 10% to 15% over the past five years.
Eco-shoppers in Germany tend to think first of their health. Take Birgit Kuhrer-Muller, 26, an advertising designer who's at the Rommelmuhle to buy diaper wraps for her 7-month-old daughter, who can't wear disposable diapers. "You start shopping at these stores when you have kids--they get allergies, and you start thinking about all the environmental factors involved." Store owners concur. "For customers, the most important thing is their own health, then the environment, and finally, the durability of the products," says Eckhardt Zugel, whose store offers leather goods made from hides cured without chrome or formaldehyde.
NICE UPTICK. With the 8,500-square-meter Rommelmuhle open a little over a year and other large eco-centers just getting started, it's hard to judge the success of the effort to expand the traditional eco-customer base. On weekends, shoppers who live as far as 150 kilometers away fill up the 200 parking spaces outside the red-brick building, but business is much slower Monday through Thursday. Still, the mall's management says sales have met first-year targets, and one merchant who moved his toy shop here confirms a nice uptick in revenues. So malls may be the next frontier in the greening of Germany.
In the race to expand the market for eco-products, some of the pioneers refuse to keep up. Helmut Keicher passed on the chance to move his 60-square-meter health food store on Bissingen's ugly main square into quarters more than six times as large at the Rommelmuhle's landmark building. "I'm not a supporter of this `think big' theory--I would have had to take customers away from other stores in the region," says Keicher, a former activist in the Green Party and the teachers' union.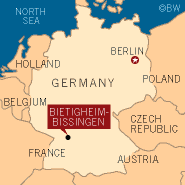 The bearded Keicher, 49, finds today's Green Party "too economically oriented" and doesn't believe the talk about expanding the sales potential of natural products through new models of marketing and distribution. He says the eco-clientele now may be grayer and wealthier than in the heyday of environmental activism, but they're still the same small crowd. "The potential for growth is pretty well exhausted," he says. "Instead of trying to top ourselves, we should be trying to hold on to what we've got." Pessimist or realist? The eco-mall owners will soon find out.
Before it's here, it's on the Bloomberg Terminal.
LEARN MORE