For a company that ran afoul of the Food & Drug Administration in 1993, KV Pharmaceutical (KV/A) has turned itself around and emerged as a fast-growing specialty pharmaceutical company. Revenues have jumped from $38 million in fiscal 1994 to $115 million in 1999. Analysts expect KV will earn $1 a share in fiscal 2000 ending Mar. 31, up from 21 cents in 1996. KV's stock is 18, up from 12 in April.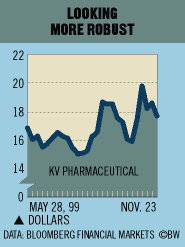 "The company is remaking itself, by pushing into the branded-drugs business on top of its very successful generics," says Graham Tanaka, president of Tanaka Capital Management, who scouts for what he terms "renaissance growth stocks." His TANAKA Growth Fund posted a gain of 33.7% from Dec. 30, 1998, to Nov. 19, 1999, vs. the S&P 500's 15.8%. He thinks KV will beat analysts estimates and earn $1.05 a share in 2000 and $1.40 in 2001. The stock could hit 35 in a year and 45 in two years, predicts Tanaka.
KV currently has four branded products, including PreCare, a line of prenatal vitamins (it has introduced PreCare R chewables), and PremesisRx, a vitamin and mineral product for morning sickness. The branded products produce gross profit margins of 80% to 90%, figures Tanaka, adding greatly to the 53% margins that KV derives from its generic drugs.
Analyst Jerry Treppel of Banc of America Securities notes that KV Pharmaceuticals trades at a huge discount to the specialty-drug group, although it is growing faster than most of its peers.
Before it's here, it's on the Bloomberg Terminal.
LEARN MORE