Cocaine Crusade Or Dirty War?
The U.S.-sponsored assault against drug producers is fraught with political risks
Suzanne Timmons
It is a hot November day at Colombia's Tolemaida military base, where members of an elite counternarcotics battalion are sweating out their final days of training, courtesy of the U.S. Army's Special Forces. While one U.S. officer, M4 rifle slung across his back and revolver strapped to his thigh, barks orders at 10 Colombian recruits brushing up on their marksmanship at a firing range, another U.S. commander directs a mock raid on a cocaine-processing laboratory.
The 950-man Colombian battalion, the first of three to be deployed by next year, is Washington's latest weapon in the war on drugs--a war that by all indications it is losing. Colombia's output of cocaine, as well as heroin, continues to climb, despite over $1 billion of American aid for counternarcotics operations over the last decade. According to a report by the General Accounting Office, cocaine production is set to rise by 50% over the next two years.
PEACE TALKS. Although such forecasts are alarming, not everyone agrees that a bigger role for Colombia's armed forces in antidrug efforts is a good idea. Colombia experts and human-rights groups warn that this could lead to a dangerous escalation of the country's 40-year-old civil war. What's worse, it could drag the U.S. into the mess as well. The conflict, which pits the government against left-wing guerrillas, has claimed an estimated 35,000 lives in the past decade alone, and driven around 1 million from their homes. Peace negotiations between the government and the largest rebel group began in January. But talks have stalled repeatedly, and it may take years to conclude an accord.
Washington insists that there is little risk of the U.S. getting caught in the crossfire, since the new battalion will target coca growers and traffickers, not guerrillas. What's more, U.S. personnel will not accompany the unit on missions. "There is no policy basis for our participation in counterinsurgency," says U.S. Ambassador to Colombia Curtis W. Kamman. "There is no congressional authority in the United States for us to do that, and certainly no public opinion supporting that. Therefore, it ain't gonna happen."
However, the line separating so-called narcos from rebels is a thin one. The two major guerrilla groups--the Revolutionary Armed Forces of Colombia (FARC) and the National Liberation Army (ELN)--have built up multi- million-dollar war chests by taxing coca growers and cocaine-processing laboratories in areas where they have a strong presence. To complicate matters further, the right-wing paramilitary groups that are the rebels' sworn enemies are similarly cashing in on the drug trade.
There's a strong chance that members of the new antidrug unit will cross paths with guerrillas while carrying out their duties. That's because the battalion will be stationed at the Tres Esquinas military base in the southern department of Caqueta, an area that is a center for coca cultivation and processing, as well as a FARC stronghold.
Human-rights groups are concerned that the U.S. could become implicated in abuses by the Colombian armed forces. In fact, the military's record on this count is so dismal that since the early 1990s the U.S. has been channeling most funds for counternarcotics activities through Colombia's National Police.
The army has managed to clean up its act somewhat in recent years. According to one U.S. embassy official, there is a commitment on the part of the higher-ups to putting a stop to abuses, such as torture of rebels and suspected sympathizers. "Not everyone in the military may feel good about it, but they know if they overstep the line they're out," the official says.
True, President Andres Pastrana has gone further than any of his predecessors in ridding the army of rogue elements. Since taking office in August 1998, he has dismissed several officers with links to paramilitary squads responsible for brutal massacres of civilians. Yet according to Winifred Tate, an analyst at the Washington Office on Latin America, a D.C.-based think tank, "there needs to be a much more concerted effort to systematically address the fact that in almost every part of the country there are paramilitaries operating either with support or tacit permission from the military."
To preempt criticism from human-rights groups, the antidrug battalion has been staffed with fresh recruits and officers have been screened for evidence of criminal activity. At Tolemaida, the troops must also undergo a crash course on international humanitarian law. Still, it's anyone's guess how well such lessons will carry over into the battlefield.
The U.S. is picking up most of the close to $20 million tab for training and equipping the new battalion. This is part of the nearly $300 million in American aid for counternarcotics operations Colombia is slated to get this year. Many in Washington would like to see even more U.S. money flowing into the country. The Clinton Administration has proposed a three-year, $1.5 billion aid package, and Senators Paul Coverdell (R-Ga.) and Mike DeWine (R-Ohio) have submitted separate legislation for $1.6 billion over the same period.
ADDICTIVE AID. So far, Congress has approved only $78 million for fiscal year 2000. But Adam Isacson, an analyst at the Center for International Policy, a Washington-based organization that tracks U.S. military aid to foreign countries, says that as much as $600 million more could be made available early next year.
Some in Colombia are troubled over the prospect of a sharp increase in U.S. assistance. "Military aid is addictive," says former national security adviser Alfredo Rangel. "You need increasingly higher doses and the recipient runs the risk of losing his independence to the supplier."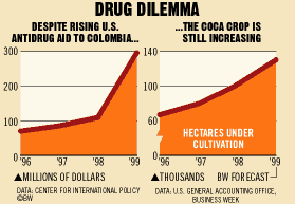 For Colombia, there is more than national pride at stake in closer cooperation with the U.S. On Nov. 11, less than two days after the country's Supreme Court voted for the first time in nine years to extradite a Colombian heroin smuggler to the U.S. for trial, a powerful bomb went off in Bogota, killing at least seven people and wounding 40. The bombing, along with subsequent blasts in the cities of Medellin and Cali, brought back memories of the wave of cartel-sponsored violence that rocked the country during the late 1980s.
Pastrana has denied any link between extradition and the possibility of further U.S. aid. Nevertheless, if drug traffickers prove to be behind the latest bombings, Colombians could sour on Washington's largess.
Before it's here, it's on the Bloomberg Terminal.
LEARN MORE