While investors are going gaga over U.S. Net stocks, David Cooley is confident he has bagged a winner in Japan: an Internet service provider (ISP) called Internet Initiative Japan (IIJI), which trades on Nasdaq. "It is a great way of participating in Japan's fast-growing Internet market," says Cooley, international equity portfolio manager at National City Investment Management, a unit of Cleveland's National City, a bank holding company. Japan still trails the U.S. in Web usage, he notes, with an estimated 30% of its population using the Net, compared with America's nearly 50%.
Goldman Sachs took IIJI public in the U.S. on Aug. 2 at 23 a share. It's now 67 1/4, after hitting 91 on Sept. 9. Cooley thinks the stock is on the way to 150, based on the Web's huge potential in Japan. Moreover, IIJI's peers trade at higher valuations. Cooley says that its peers worldwide are selling at 20 to 25 times revenues, while IIJI trades at 12. IIJI is mainly a business-to-business service provider, connecting Japanese businesses to the Internet. Among its blue-chip customers: Japan's telecom giant NTT, which owns 5% of IIJI, Japan Telecom, Hitachi, Fuji Bank, Toyota Motor, Sumitomo, Nintendo, and Japan's Ministry of Transport.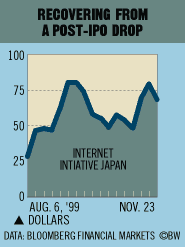 Analyst Paul Saferstein of Morgan Stanley Dean Witter says that, with its powerful position, IIJI--this "forefather of Japan's Internet"--deserves higher valuations. Last year, IIJI formed a venture with Toyota and Sony called Crosswave Communications to operate a fiber-optic network for high-speed data communications. IIJI owns 40%, with Toyota and Sony each owning 30%.
Cooley notes that Sony has its own ISP unit called So-net. At some point, Sony may consider merging IIJI's high-speed ISP services with its own ISP unit So-net, says Cooley, "to gain critical mass and economies of scale." He expects IIJI revenues of $220 million in fiscal 2000 and $283 million in 2001. Cooley figures IIJI will turn profitable in 2001, earning of 68 cents a share.
Before it's here, it's on the Bloomberg Terminal.
LEARN MORE