Either Viatel (VYTL) is grossly underpriced or KPNQwest is way overvalued. Currently trading at 38, Viatel, a global provider of telecommunications services, has operations and assets in Europe much like those of KPNQwest. Yet Viatel's market cap is a mere $1.2 billion compared with KPNQwest's $19 billion. KPNQwest, which went public on Nov. 8 at 20 and now trades at 44, is a venture jointly owned by Koninklijke KPN of the Netherlands and Qwest Communications of the U.S. KPNQwest provides telecom service through its fiber-optic network connecting 39 major European cities. Viatel also has a fiber-optic system in Europe linking 30 cities.
Analyst Leslie Stonestreet of Banc of America Securities has a strong buy recommendation on Viatel. The two providers "are very similar companies," she says, adding that "compared with KPNQwest, Viatel is "implementing a superior, international, facilities-based strategy."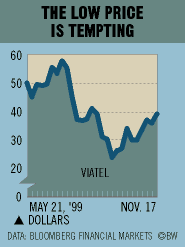 Viatel is also buyout bait: "As the cheapest emerging fiber-optic network operating in Europe, Viatel is one of the more likely takeover targets," says Sven Monberg, a special-situations analyst at Starr Securities in New York. He thinks Viatel will be acquired this year, most likely by Deutsche Telekom. "In the past 30 days, people at both companies have sat down to discuss a buyout scenario," says Monberg.
Cost-efficient Viatel, says Stonestreet, is well positioned to take market share away from the likes of Telekom. "I wouldn't be surprised if Viatel becomes a target," she adds. Her 12-month target for Viatel's stock price is 58, based on discounted cash-flow analysis. But in light of the value of the company's property, plant, and other equipment--estimated at $1 billion--Viatel is worth 77 a share, net of debt, says Stonestreet. Viatel wasn't available for comment.
Before it's here, it's on the Bloomberg Terminal.
LEARN MORE