U.S.: Why The Fed May Not Be Done Yet
The economy won't be slowing much despite the latest hike
by
Wall Street breathed a sigh of relief immediately after the Nov. 16 news that the Federal Reserve had raised interest rates for the third time since June and had rescinded its bias toward tighter policy. Investors' initial reaction was that the Fed's work was done. Stock and bond prices shot up, and the Dow Jones industrial average ended the day up 172 points.
But after a close reading of the Fed's accompanying statement, the bond market took a very different take. It staged its biggest one-day drop in a month, and continued to sell off the next day. Perhaps stock investors should take their cues from the bond market.
In hiking the federal funds rate by a quarter point, to 5.5%, as well as lifting the discount rate by a similar amount, to 5% (chart), the Fed said that inflationary risks, while diminished, have not gone away. And despite some signs of slower economic growth and excellent productivity gains, the economy's pace remains "in excess of the economy's growth potential," believed to be about 3%. In plain English, if the economy doesn't slow markedly, the Fed will hit the brakes again.
Keep in mind that the Fed's hikes to date only put monetary policy back to where it was in July, 1998, before the three quarter-point cuts the Fed made to provide emergency liquidity during last fall's global financial-market turmoil. You may remember that in July, 1998, the Fed was leaning toward lifting rates in the face of exceptionally tight labor markets, which have since become even tighter. And those worries are unlikely to go away in 2000.
The Fed acknowledged that the recent trend in labor-market tightening "must eventually be contained if inflationary imbalances are to remain in check." Consumer prices looked tame in October, as both the overall consumer price index and the core index, which excludes energy and food, rose just 0.2%.
However, the economy retains plenty of momentum as it heads into yearend. And while yearly core inflation remains stable at 2.1%, overall inflation has accelerated by more than a percentage point over the past year, to 2.6%, reflecting the jump in energy prices. Yes, consumer spending is slowing, but only to a low boil. Housing activity is cooling because of higher mortgage rates, but activity is still at a high level.
At the same time, industrial production is picking up, driven by the export recovery and by the need to rebuild skimpy inventories. On balance, prospects remain strong enough to keep the economy growing in excess of 3%. That means no letup in the pressure on the labor markets--and no letup on monetary policy.
Terrific productivity growth has offset some of the potential inflationary consequences of red-hot job markets. The Labor Dept. said that output per hour worked rose a stunning 4.2% in the third quarter and that its pace over the past year has sped up to 2.9%. Labor's data incorporated the Commerce Dept.'s benchmark revisions to overall output, and they showed an even better productivity performance in recent years than previous data had indicated.
Productivity, however, is highly unlikely to grow faster in 2000 than it is advancing now. First, overall output is not likely to speed up from its recent 4% pace in the face of interest-rate hikes and a flattening-out of stock prices. And second, the productivity of the new workers in the labor force is diminishing, as positions requiring technical skills go begging.
Meanwhile, worker compensation is far more likely to accelerate. Wages, salaries, and benefits measured in the productivity report rose at a 4.9% annual rate last quarter, and they are up 4.6% from a year ago. Although compensation has slowed from its year-ago pace, the quarterly pattern shows progressively bigger gains in each quarter of 1999.
This upward trend in compensation suggests that labor costs may be rising faster than the trend implied by the closely watched employment cost index, which is up only 3.1% from a year ago (chart). The ECI does not include certain forms of compensation, such as bonuses and stock options, that are increasingly necessary to attract and retain workers.
The only way to assure that compensation growth does not outstrip productivity gains next year is for the economy to slow to a pace that relieves labor-market pressures. While there are some indications in recent data of slowing around the edges, signs of continued strength still abound.
The latest evidence: October industrial production rose 0.7% from the previous month. Even accounting for the rebound from Hurricane Floyd--the cause of a a 0.1% drop in September output--that was still a strong advance.
In addition, capacity utilization rates continue a gradual recovery from last year's steep falloff, brought on when export demand dried up. The overall operating rate rose 0.3 points, to 80.7%, the highest level since December. Output and operating rates will continue to rise as the export recovery combines with already strong domestic demand and as inventory growth picks up, which already appears to be happening.
Business inventories held by manufacturers, wholesalers, and retailers increased 0.4% in September, the largest gain in six months, but stock levels are still growing at a snail's pace compared with demand (chart). As a result, the ratio of stock levels to sales in September was the lowest on record.
The Fed's statement noted some slowing in interest-sensitive sectors, notably housing and some areas of consumer spending. But the slowing so far isn't much for the Fed to hang its hat on. Retail sales in October were unchanged from September, but excluding car buying, sales rose a healthy 0.5%. October car sales fell from a spectacular 17.1 million annual rate in the third quarter.
Based on the month's retail sales level, overall real consumer spending is on track to grow 3% to 3.5% in the fourth quarter, down from 4.3% in the third quarter. But excluding autos, there is little sign of a slowdown.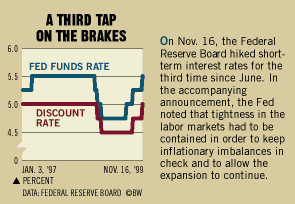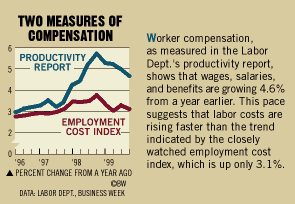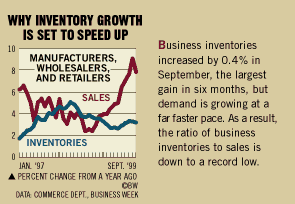 Moreover, while housing activity may be topping out, it remains firm. Housing starts edged up in October, and the National Association of Home Builders' housing market index jumped in November. Builders' assessments of current and expected sales rose strongly, and builders voiced growing concern about a shortage of skilled workers. So even in the economy's most interest-sensitive sector, past rate hikes so far do not appear to be biting very hard, especially in the area of labor demand.
The Fed is unlikely to move on Dec. 21, right before possible Y2K computer problems. But policymakers will still be looking closely for signs that its past actions are taking a firmer hold. And until the Fed sees them, the threat of more rate hikes will continue to hang over the markets.
Before it's here, it's on the Bloomberg Terminal.
LEARN MORE