Starwood Hotels: Check In Or Check Out
Investors want CEO Barry Sternlicht to be more committed
Kathleen Morris
The grilled Maine scallops are succulent, the raspberry champagne cocktail chilled to perfection. And Barry S. Sternlicht is in his element, regaling a roomful of travel writers, enthusing about how his new hip W hotels will perfect the brand mix at Starwood Hotels & Resorts Worldwide Inc.
No one ever said Barry Sternlicht doesn't have an eye for marketing opportunities. And he may be the savviest financier to ever stride across a hotel lobby. But in an industry facing rising capacity and falling occupancy rates, today the more valuable skills are in the operations end of the business, not dealmaking. And lately, Sternlicht has been losing key operations executives left and right. When Juergen Bartels walked away in early November, after a year and a half of running hotel operations for Starwood, which has a total market value of $10 billion, he became the fourth top executive to leave in the past six months. The buzz began almost immediately on Wall Street: Can Sternlicht, the 38-year-old wunderkind who transformed a near-bankrupt hotel company into the country's largest, keep executives on his payroll?
DEFECTIONS. For Starwood, that is a real concern. "Clearly, the market has lost confidence in this company's leadership," says John Arabia, an analyst with real estate research firm Green Street Advisors. "That is something the board has to address." Adds Karen Knudson, portfolio manager at The Rreef Funds, which has a stake in Starwood: "Someone else should be running this company on a day-to-day basis to get the big job done."
Sternlicht dismisses these comments. He insists the departures, were "not because of me." But the board is helping Sternlicht find a No. 2. And there have been rumors of an LBO. Insiders rave about his intelligence and energy. But they say he should manage his staff better. Investors complain that the personable but brash exec can be an ineffective communicator. "The Barry style is a recognized problem," says Jim Sullivan, an analyst at Prudential Securities. "He comes off with this `I am smarter than you are attitude."'
Doubts about Sternlicht have been growing since May, when Richard D. Nanula abruptly left after a year as Starwood's president and chief operating officer. Nanula, a former Walt Disney Co. CFO, and Sternlicht had been close friends. Then, U.S. hotel operating chief Fred J. Kleisner and top gaming executive Richard T. Mahoney departed, along with Sternlicht's own brother, Russell, who was a senior vice-president. Kleisner and Mahoney insist they left for personal reasons.
Starwood's financial results have been respectable, with a 5% rise in room revenues for this year's first nine months. Not only does the company produce more than $850 million in annual free cash flow, analysts agree its stable of more than 700 hotels has plenty of upside. But they also claim a "Barry discount" figured into Starwood's stock, which has fallen 60% in the past 18 months.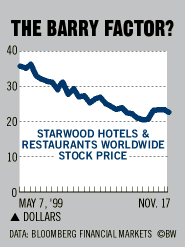 It is not just the defections that have made investors nervous. Sternlicht also is chairman of two other real estate companies, Starwood Capital and Starwood Financial Inc. In addition to posing a potential distraction, these engagements have, at times, presented the appearance of conflict. Recently there were complaints about a lucrative investment Sternlicht personally made in Priceline.com, which sells excess hotel rooms, including Starwood's. Sternlicht denies any improprieties.
Most analysts don't want Sternlicht gone. But they want him to either give up any active role in his other companies or take a nonexecutive role as chairman. The CEO, who controls 4% of the company's stock, says, "I will do whatever is in the best interest of shareholders." If the company's current share price is any indication, that may be to bring in someone who can run the empire he created.
Before it's here, it's on the Bloomberg Terminal.
LEARN MORE