Putting Banks On The Road To Recovery
They're wooing customers and sharpening lending practices
by
Suprot Phugsri tapped into a Bank of Asia automated teller machine several months ago for the simple reason that he needed cash and the machine was located close to his auto-parts shop on the outskirts of Bangkok. He's glad he did. Bank of Asia happened to be running a promotional lottery--and Suprot won a new house. The 28-year-old businessman didn't even have an account with the bank. Suprot and his family have since become customers. "So did all of my friends," he beams.
A marketing gimmick, yes. But as it emerges from Asia's crisis, Bank of Asia is pulling out all the stops. Even before the crisis, the families that controlled the bank had hired a corps of professional managers. Then in 1998, ABN Amro of the Netherlands paid $185 million for a majority stake in the 60-year-old institution.
Since then, Bank of Asia has launched a slew of new consumer products and has begun to market itself aggressively. Its balance sheets still are splattered with red ink and dud loans. But management believes it's about to turn the corner. The bank's customer base has doubled, to 1 million, in the past year. "That has clearly exceeded our expectations," says Sergio Real, ABN Amro's chief executive for the Asia/Pacific region.
DISASTER AREA. Bank of Asia is a test case for the region. Since the crash of Asian financial markets and currencies, governments have spent billions to buy up nonperforming assets and to pump liquidity into the system. But domestic lending remains anemic, and nonperforming loans continue to grow. Thai banks have raised $15 billion in new capital, mostly from the government. But almost half of all loans--$64 billion--are nonperforming. Korea has shelled out nearly $50 billion so far for bank bailouts and is expected to spend up to $16 billion more to support wobbly investment trust companies. Indonesia is a disaster zone. The already staggering task of rescuing institutions has been set back further by the Bank Bali scandal.
Cleaning up balance sheets is just the first step in the much longer process required to bring Asian banks up to global standards. They must build a cadre of professional bankers and loan officers who lend based on analysis of risk and borrowers' cash flow rather than on personal connections and how much property a borrower can put up as collateral. "You don't change cultures overnight," warns Salomon Smith Barney Managing Director Stephen M. Taran. Some industry experts warn that it may take 10 to 15 years to refashion the region's banks into modern financial institutions.
Foreign capital and expertise will be essential. Bank of Asia, one of Thailand's smaller institutions, is one of only a handful in the region to change hands. That's because the bank's two controlling families, the Euarchukiatis and the Patrapapsits, were jolted out of their complacency by a rash of bad loans. In 1993, they appointed Chulakorn Singhakowin president and chief executive--the first time they went outside the families. Chulakorn soon began hiring new executives, including a veteran Citibank general manager for Thailand, and spent $80 million on a new computer system. The system came online in late 1997, and the bank was ready to forge an alliance with Finance One. But that high-flying finance firm crashed after the baht collapsed that summer.
While other Thai banks hoped the crisis would pass, Chulakorn struck an innovative deal that gave ABN Amro 75% of Bank of Asia with a big chunk of the payment tied to future performance. Chulakorn figures he didn't have much choice: Thailand had "almost reverted to a barter economy," he says. And Bank of Asia's books were a mess.
TALL ORDER. Although ABN Amro has the right to nominate 8 of 11 board members, rebuilding the bank falls squarely on Chulakorn and his team. The lofty aim is to quadruple Bank of Asia's market share for loans and deposits, now just under 3%, and become one of the country's five biggest banks, measured by assets, by 2003. That's a tall order, considering the dominance of the top four banks. In addition, foreign giants such as Standard Chartered, HSBC Holdings, and Citi also have either closed deals to buy Thai banks or are kicking the tires among acquisition targets.
The ATM promotion is one example of what the bank is doing to boost share. The bank claims it's the first in the world to put an ATM in a McDonald's restaurant. It also has installed them in supermarkets, where it has set up mini-branches. It even dispatches a fleet of vans with ATM and foreign exchange machines to factories around the country on paydays.
Other strategies to woo new customers include door-to-door marketing campaigns and keeping some mini-branches open six days a week until 8:30 p.m. In a country where banks tended to ignore consumers, the change has been enormous. Unless they knew the owners, customers "had to crawl to the banks and light joss sticks to open an account," says Chulakorn.
Management is also trimming expenses. The bank lopped 500 workers off its 1996 payroll of 2,800 before it started adding staff again this year; branches that once had 25 employees now have 11. Routine processing tasks and data-crunching have been computerized. Space once occupied by binders of central bank regulations and loan documents has been freed up for customers.
The new team also is taking a more sophisticated approach to lending. Previously, there was no risk-management committee. Now, the bank has a separate department for assessing new loans, as well as a more powerful credit committee. In addition, there are tighter restrictions on loans to a single borrower, and loans above $5 million must now be approved by ABN's regional headquarters in Singapore. "Foreigners are important for one reason," says Jim Walker, chief economist for Credit Lyonnais Securities (Asia) Ltd. "They make the same mistakes as everyone else, but they don't lend to their cousins."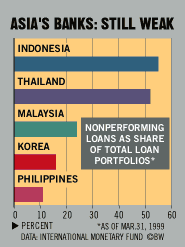 Still, the Bank of Asia cleanup shows how difficult it will be to restore Asian institutions to financial health. Although the worst is over, the bank lost $65 million in the quarter ended Sept. 30. Nonperforming loans still amount to 42% of its total. The bank also is far off its target of boosting loans by 32% this year--partly because corporate customers are still too weak to take on new debt.
Until the Thai economy recovers, no bank will produce sterling results. ABN is determined to stick it out, though. In mid-November, it pumped an additional $325 million in equity into Bank of Asia. ABN's Sergio Real reckons a payoff is two to three years away. But it's the kind of commitment that will be required in bank after bank before East Asia can boast the financial underpinnings to achieve sustainable growth.
Before it's here, it's on the Bloomberg Terminal.
LEARN MORE