Pier 1 Hustles To Spruce Itself Up
by
Value investor Mark Boyar rode the shares of housewares emporium Pier 1 Imports (PIR) all the way up from split-adjusted 3 in 1994 to 13 in mid-1997. He bailed out then, as the growth and momentum investors started rushing in, cheered by the rapid rise in Pier 1's comparable-store sales. Boyar felt that the company had no room for even a slight earnings shortfall with such a pack of big growth players. True enough, they bailed out fast when Pier 1--with 735 stores in the U.S. and an additional 74 abroad--posted disappointing earnings early in 1998, pulling the stock back down to 8. Enter Boyar as the stock slumped to 6 (BW--Nov. 1).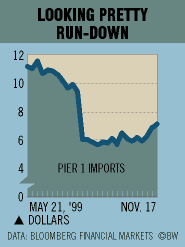 So why is Boyar once again high on Pier 1? He thinks it's on the way to better earnings, based on his talks with Chairman and CEO Marvin Girouard. "A generator of free-cash flow with an underleveraged balance sheet, Pier 1 is looking for new ways to grow," says Boyar. Analysts polled by First Call expect company earnings of 67 cents a share in fiscal 1999 ending Feb. 29, 2000, and 79 cents the next year, compared with 1998's 77 cents.
What is Girouard's battle plan? Pier 1 hopes to cut prices 15% to 30% on 600 items that collectively generate 15% to 20% of total sales. Pier 1 will be offering 20%-discount coupons and also plans an online catalog of 1,000 items. Would Girouard be amenable to a takeover? Boyar thinks so. "Pier 1 would make a great acquisition candidate for either a retailer or mail-order business," says Boyar. "Girouard is bent on lifting the stock to the mid to high teens."
Before it's here, it's on the Bloomberg Terminal.
LEARN MORE