"Icing On The Cake" For Hong Kong Investors
Already-robust Hong Kong stocks get a lift from the WTO pact
By and
Politicians may long debate whether China's deal with the U.S. to join the World Trade Organization is good or bad for the global economy. Investors have no doubts: They like it. In the three days after the Nov. 15 announcement, share prices in Hong Kong's benchmark Hang Seng index jumped 3.5%, to 14,704, the highest level in two years. "It's a catalytic event," says Mark Headley, managing director of Matthews International Capital Management in San Francisco. "It will force people to reassess investing in China."
Internet and high-tech companies top many buyers' must-have lists. That's because China agreed to allow foreigners to own 49% of telecom and Net companies immediately after Beijing joins the WTO, and 50% in the second year. So investors are betting there will be a surge of outside money and expertise into such outfits, which need capital and content to survive in what will be a brutally competitive market. Shares of China.com Corp., for example, an Internet portal and development company that's traded in New York, jumped 85%, to about $107, on Nov. 17. When it launched its initial public offering on the Nasdaq in July, its shares went for just $20. Software business Founder, which recently formed a partnership with Yahoo! to launch a portal in China, gained 24%. Pacific Century CyberWorks, a new multimedia company that has deals with Intel and CMGI, rose 4%.
Old-line companies with a New Economy feel got a boost, too. None more than Hutchison Whampoa, which jumped 9%, to nearly $12. It is Hong Kong's, and the world's, largest port operator and has operations in Shanghai and Yantian, which serves the Shenzhen Special Economic Zone next to Hong Kong. But what excites investors more is the prospect that Hutchison may put money into the Chinese market through its new $1.2 billion joint venture with Global Crossing Ltd., which is chasing fixed-line telecom and Internet business. Hutchison's stock surge was also helped by events far beyond China: The company owns 45% of Orange PLC, the British mobile operator, which is being sold to Germany's Mannesmann for $32 billion. Mannesmann now is in play too.
LESS RISKY. Even the most traditional Hong Kong companies got a lift from the deal. Property developer Cheung Kong rose 9% and banking giant HSBC Holding PLC, 6%. "Hong Kong's conglomerates know the Chinese market. They're the best positioned to benefit from WTO," says Jui Lai, who manages a $2 billion Asian portfolio for Grantham, Mayo, Van Otterloo & Co. in Boston.
That's not the case with China's own sprawling conglomerates such as Shanghai Industrial Holdings Ltd. or Beijing Enterprises. They may be in trouble because they are likely to face stiffer foreign competition against their main businesses. Investors dumped the shares of auto and steel companies listed in Shanghai and Shenzhen for that reason. Besides, mainland conglomerates may well get less political support from Beijing in the future.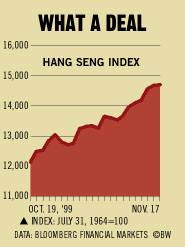 Back in Hong Kong, there's more moving the market than just China's announcement. Unemployment is expected to fall from 6.2% now, while some forecasters think growth could zoom to 4% in 2000 from just 0.5% this year. "The WTO is just icing on the cake," says David Lui, New York-based portfolio manager for Strong's $220 million International and Overseas Funds.
There are downside risks, of course. The U.S. economy could slow, dragging down all of Asia. WTO membership could lead to large-scale unemployment in China, maybe even widespread social unrest. And then there are the on-again, off-again worries about whether Beijing will devalue its currency. That puts pressure on the Hong Kong dollar.
But most investors seem to believe that China is a less risky place to put their money now. Two years ago, everything was falling apart in both Hong Kong and China. But all seems to be coming together--for now, at least.
Before it's here, it's on the Bloomberg Terminal.
LEARN MORE