Commentary: Why Atm Outrage Is So Misplaced
Mike Mcnamee
Are banks gouging when they lay on surcharges for transactions at automated teller machines? That's the burning political issue in California--and may soon be coming to a city council near you. San Francisco and Santa Monica are trying to stop banks from charging noncustomers for use of their cash machines. New York City Council Speaker Peter F. Vallone says he'll introduce an ATM-surcharge ban, and California organizers say they're advising two dozen local governments across the country.
Banks want to duck the question of what's justified. "I refuse to get drawn into a cost argument," sniffs H. Kurt Helwig, executive director of the Electronic Funds Transfer Assn., which represents banks and ATM networks. They figure they can beat local fee bans in court: On Nov. 15, a federal judge blocked the California ordinances, ruling that bank oversight is a national responsibility. But that defense won't help banks if the ATM revolt spreads to Washington, where pols of every stripe will smell votes in a banks-vs.-consumer fight.
HANDS OFF. What banks should say is: "We charge what the market will bear." The facts support them: Six out of seven ATM users don't pay surcharges. The fees hit only users who go to "foreign" ATMs--machines not owned by their own bank. Banning surcharges will force the vast majority of bank customers to underwrite the few who demand access to cash wherever they are. If politicians are allowed to muck around with the price of ATM service, they'll screw up a market that's rapidly moving toward fairer pricing.
Advocates of a ban don't see it that way, of course. They say they're trying to protect small banks, which can't match bigger banks' vast ATM networks. But small banks aren't losing out: They keep customers loyal by absorbing the cost of foreign ATM fees, which is a cheaper way to compete than by adding their own ATMs.
ATM-fee opponents also charge that banks are double-dipping. Before surcharging spread nationwide in 1996, the fees associated with ATMs were more obscure. Customers who used another bank's ATMs paid a "foreign fee"--which averages $1.29 per transaction--to reimburse both their own institution and the ATM owner. But that year, the two largest bank networks, Cirrus and Plus, dropped their ban on surcharges by member banks in the face of antitrust concerns. Now, over 90% of banks--and 100% of independent, nonbank ATM operators--surcharge noncustomers. Bank fees average $1.35; independent ATMs average $1.59.
Advocates say banks are gouging because those fees exceed the cost of running an ATM. But a 1999 study by Boston-based Dove Consulting says average cost and rent for an ATM away from a bank branch runs from 48 cents per transaction for banks to $1.85 for independents. Since only 14% of transactions create fee revenue, Federal Reserve figures show banks on average lose 20 cents to 50 cents per transaction.
SHIFT. But ATM fees--like the prices of Beanie Babies--are not simply a function of cost. Banks price their services on competition and price sensitivity in the market. Customers react sharply to differences in deposit and loan-interest rates, but fees--especially charges that depositors can avoid, like ATM fees--don't drive people away.
Consumers may not change banks to avoid ATM fees, but they're changing their behavior. In Texas, where surcharging caught on first, "customers are more likely to use debit cards to get cash at grocery stores," which don't charge fees, says Stan Paur, CEO of the PULSE EFT Assn. Proof: Retail sales rose 10.5% in the past year, but ATM transactions slipped by 1.8% (chart).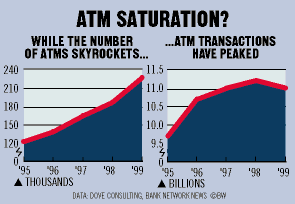 Limits on ATM fees will backfire. A ban would force bank customers to underwrite noncustomers. Banks could respond by turning away noncustomers--as Bank of America and Wells Fargo did briefly in Santa Monica. Or they could reverse the surcharge-driven explosion of ATMs, which shot up 85%, to 227,000, since 1995. The first bank ATMs to go would be in low-volume or high-cost locations, like poor neighborhoods.
Banks are an easy target. But when politicians try to set prices, the costs seldom fall on powerful players. In the fight over ATM fees, it's ATM users who have the most to lose.
Before it's here, it's on the Bloomberg Terminal.
LEARN MORE