business
As Trams Unsnarl Strasbourg...Even Opponents Climb On Board
William Echikson
Jean-Jacques Schaettel drives his Saab to work every day through the quaint streets of Strasbourg. But the CEO of Carmin Films soon will change his commuting habits and take the tram. A new, $260 million line is scheduled to open in September, running directly from his home to his office near the modern European Parliament building. "The tram will be faster and more convenient," Schaettel says.
The venerable tramway is making an impressive comeback in this city of 255,000, setting an example not only for French cities but also for others around the globe. Since opening its first modern line in 1994, Strasbourg has eased car pressure on its timbered medieval city center. It's also proving that what not long ago seemed a creaking, outdated form of transport can be a nonpolluting solution to congestion.
Although trams have survived in Germany, Switzerland, and Eastern Europe since World War II, Strasbourg and almost all other French cities tore up their trolleys during the 1950s. "Everyone believed the bus and car were more flexible and better suited to the future," recalls Yves Laurin, director of the city's tramwork project. The last Strasbourg line shut in May, 1960.
But car traffic soon began to overwhelm the city. By 1989, an average of 240,000 cars crammed into downtown each day. Pollution spread. Near the central Place Kleber, carbon monoxide content in 1989 hit twice the maximum that the World Health Organization considers acceptable.
Strasbourg initially considered constructing a subway--then rejected the idea because it would have cost three times the price of an overland tram. Still, many opposed the trams and the accompanying plans to create car-free pedestrian areas. "No one wanted the construction in their backyard, and many feared they wouldn't be able to get downtown easily," recalls Francoise Elkouby, head of the city's promotion department.
But opinions changed after the first tram started rolling in 1994. Forget clunky trolley cars. These sleek models resemble futuristic high-speed trains, with wide-angle views from large windows. They run in their own dedicated lanes, separating them from traffic and making them as fast as cars. Since the tram's maiden voyage, traffic has increased to 75,000 trips a day, 2.5 times more than the buses the tram replaced. In the city center, pollution has fallen by half.
BIKE ROUTES. The trams represent only one part of a larger transport policy. While eliminating downtown parking, the city built big car lots holding 1,500 vehicles next to the first set of tram stations and now is constructing lots holding 2,700 more. Connecting bus services have been launched. And 300 kilometers of bicycle routes have been inaugurated.
The initial experiment has proved so successful that a second line, 12 kilometers long, was contracted without opposition in 1995, and construction began last year. Plans have been approved to extend the lines to a total of 35 kilometers by 2010. Strasbourg's example has encouraged copycats: Orleans, Montpellier, and Lyon, among other French cities, are building systems. "France has caught Tramania," says Laurin. And it appears to be spreading abroad: Visitors from as far away as Tokyo, Seoul, and Brisbane, Australia, have visited the city to see if trams are for them.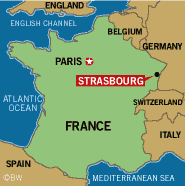 Strasbourg officials broke another taboo by selecting Switzerland's AB Train to build their trams. No French company offered a similarly modern design. Of course, local businesses are also profiting. Construction company owner Francis Miehl oversees six workers building the new tramway on Avenue de la Paix. "We've doubled our employees and revenues this year," he says with satisfaction. All told, Alsatian companies won contracts worth more than $150 million.
Even downtown retailers and restaurateurs have come around. "When the tram was being built, we were penalized by the construction and loss of traffic," recalls Gerard Schrodi, owner of the Weinstub Zum Strissel restaurant. But tram riders are doing their shopping in the car-free downtown. Schrodi's business is booming, particularly now as visitors from all over France and Germany throng on foot to the annual Christmas market in front of the medieval cathedral. Thanks to the tram, even this oldest form of transport is coming back into favor.
Before it's here, it's on the Bloomberg Terminal.
LEARN MORE