The Street.Com: Now For The Dive.Com
After the shakeup, investors seem wary
by
A management shakeup at a high-visibility Internet company. Early investors selling as share prices plummet. Sounds like a story for TheStreet.com, right? Only this time, the story is TheStreet.com.
On Nov. 5, the chairman and chief executive officer, Kevin W. English, was abruptly replaced. And the next trading day, Nov. 8, some 9.7 million shares of restricted stock, obtained by early investors at rock-bottom prices, was released to trade--boosting the float by 50%. That sent investors rushing for the exits. By noon, shares of TheStreet.com skidded 15% to 14, before closing at 14 1/2. And even though it has rebounded, the stock remains more than 70% below the 71 it hit after going public at 19 in May.
In announcing English's resignation, the company insisted that "it remains on track to meet all of its financial and operating performance objectives." But investors don't seem to think that's good enough. As of Sept. 30, cumulative losses had reached $35.5 million. New CEO Thomas J. Clarke, a former investment relations exec who joined TheStreet.com as president on Oct. 19, says he doesn't know when the company will go into the black. While it's not unusual for Internet startups to pile up losses, he acknowledges that investors are impatient: "We need to raise our sense of urgency," he admits.
COST CONCERNS. Clarke says investors also are still "evaluating" TheStreet.com's business model, which relies on revenues from both advertising and a $9.95 monthly subscription charge. But he insists the company is growing nicely--subscriptions rose from 60,000 in early July to 94,000 at the end of September. Advertising and e-commerce revenues in the third quarter rose 23% to $2.1 million from the second quarter, and the company has unveiled a slew of joint ventures.
Investors, however, are focussing on rising costs. Analysts project that TheStreet.com, which lost $7.2 million on revenues of just $3.9 million in the third quarter, will remain in the red through 2000 at least. Hambrecht & Quist analyst Paul W. Noglows, who downgraded the stock, now figures that in 2000, the company will lose $36 million. His previous estimate was $32.6 million, on revenue of $29 million.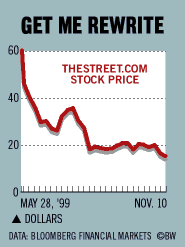 Clarke is vague about what he'll do differently, saying only that he will "intensify the focus on the things that will drive the business." He says he has no plans for cutbacks, but costs are "certainly something we're aware of." Unlike English, Clarke will not be chairman. That job goes to Fred Wilson, managing partner of Flatiron Partners, a TheStreet.com board member.
That still leaves plenty of questions for investors. Noglows says TheStreet should be fine longer term. But fund manager Richard S. Bookbinder, who has been shorting the stock, asks: "Where are the revenues going to come from?" It's unclear if anyone at TheStreet.com knows the answers.
Before it's here, it's on the Bloomberg Terminal.
LEARN MORE