Solid Paper Gains At Champion
by
Paper stocks have been on fire of late, partly because of an industry upturn stemming from a lift in overseas demand, including a pickup in Asia. There are also expectations of more takeovers. One stock on a tear is Champion International (CHA), a producer of paper and wood products, which leaped from 48 on Oct. 5 to 59 on Nov. 10. In mid-October, Champion unveiled a plan to enhance shareholder value, including raising the dividend and buying back shares. But what has caught investors' attention is a rumor that Finland's big paper-and-forest-products company, Big Board-listed UPM-Kymmene, may make a bid for Champion.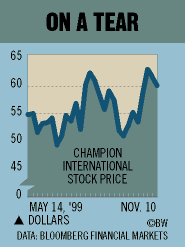 One New York money manager says that while he was in Europe, company executives told him that UPM was interested in acquiring a U.S. paper company.
This pro, who has been scooping up paper shares, puts Champion's buyout value at 80. He thinks Georgia-Pacific and International Paper are also possible buyers of Champion. Analyst Chip Dillon III of Salomon Smith Barney figures that on fundamentals alone, Champion is already worth 80--less than 10 times his estimated "peak earnings" of $8.50 a share in 2001, up from an estimated $3.95 in 2000 and $1.90 in 1999. Champion declined comment.
Before it's here, it's on the Bloomberg Terminal.
LEARN MORE