business
Pulp Fact: Reams Of Good News
Internet ads have the recently dog-eared paper biz on a tear
By
Not even the fusty old paper business, it seems, is immune to the dot.com revolution. Despite dire predictions that the Internet could depress demand for paper, for the time being it's producing the opposite effect. Sales of newsprint and coated stock are up as newspapers and magazines swell with advertising from e-businesses. Demand for computer paper is climbing because so many Web pages get printed out. And all that merchandise sold by e-tailers such as Amazon.com Inc. or CDNow Inc. is shipped in paper cartons. "Every time someone buys from a dot.com, that means more paper, more packaging is used," says John V. Faraci, chief financial officer of International Paper Co. "Those predictions 10 to 15 years ago of a paperless office just didn't play out."
Anything looks up from the dumps, which is where the paper industry has been for the last four years. The price for pulp--the mush of wood chips that forms the raw material for most paper products--peaked at $925 per metric ton in late 1995, spurring a rush to invest in new plants. As demand softened and a glut of new supply hit the market, pulp prices headed south, bottoming out at $460 early this year. Paper companies "had to work off mountains of inventory," says Brown Brothers Harriman & Co. analyst Kathryn F. McAuley.
Now, demand is on the rise--magazine ad pages are up by 3.7% this year--and prices are starting to recover. In the third quarter, pulp sold for $535 per metric ton and is expected to hit $650 by the end of next year, according to some forecasts.
That's helping the bottom line. IP's third-quarter operating profits were up by $81 million, to $192 million, from the same period in 1998. At Georgia-Pacific Group's packaging unit, profits more than doubled, to $209 million, in the first nine months of this year. And across the industry, operating income for paper-product divisions was up an average of 116% in the third quarter from a year earlier, according to investment bank Warburg Dillon Read.
It isn't just demand that is driving the improvement. Equally important, paper companies have learned to keep a lid on supply. Time was, says Bear, Stearns & Co. analyst Linda Lieberman, as soon as prices started to nose up, investment in new plants and equipment would take off. "They could never ratchet down capital spending," Lieberman says.
This time, paper execs are keeping their new plants on paper and, in some cases, have even trimmed capacity. In linerboard--the stuff used to make corrugated shipping boxes--the newly merged Smurfit-Stone Container Corp. last year closed mills with 1.1 million tons of annual production, or 3% of the North American total for all companies. And Georgia-Pacific shut down its pulp mill in Port Hudson, La.--which took roughly 20% of the company's pulp capacity off-line--one of four pulp mill shutdowns in the country last year.
ON A ROLL. Most analysts and paper executives expect the good times to keep rolling for a while. The fourth quarter should be robust as companies stockpile to avoid Y2K-related shortages and employees print out backup paper copies of important computer files. And all of those special millennium editions of newspapers and magazines will boost sales of newsprint and coated papers even more.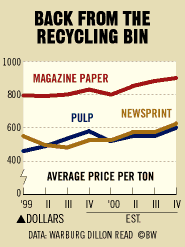 Further ahead, though, some question whether paper companies can handle the prosperity. "The industry has to be careful late this year and not put their foot on the production accelerator," says Warburg Dillon Read analyst Frances Loo. And while the Internet is today driving demand for paper, the ultimate effect of the digital revolution on paper remains unclear. E-commerce companies will almost certainly put the brake on their advertising binge, which should trim demand for coated paper. And if newspapers move their classified advertising online, sales of newsprint could tumble. Then again, maybe everyone will simply print the classifieds at home--which means all those trees aren't out of the woods just yet.
— With assistance by Diane Brady
Before it's here, it's on the Bloomberg Terminal.
LEARN MORE